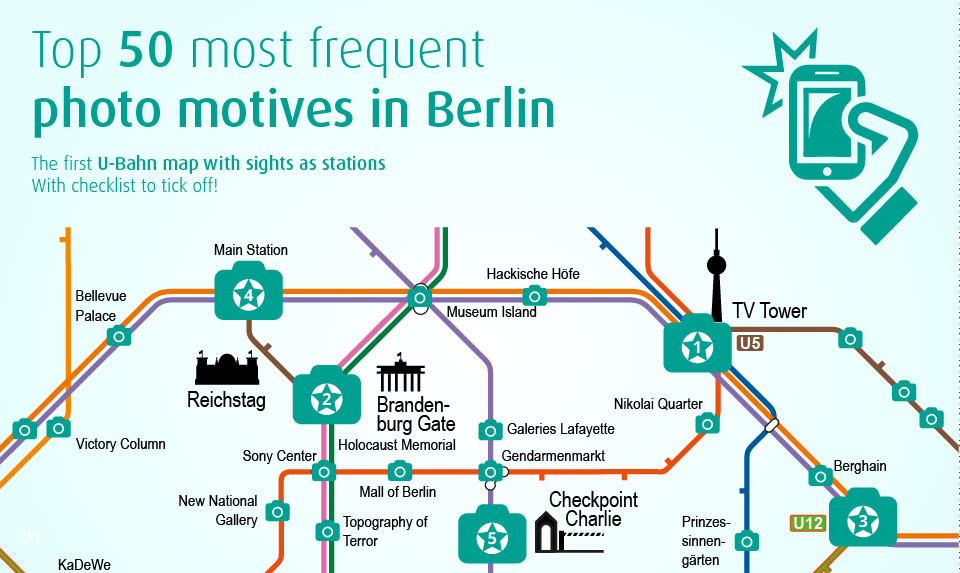 ---
Top 50 Berlin Sights
The most photographed sights in Berlin as an underground map
By U-Bahn (Tube) and S-Bahn (urban railway) through the German capital: The most comfortable way to explore all the sights of Berlin. But which sights in Berlin are the most popular ones? And where should you jump out for a shot of Checkpoint Charlie or the Brandenburg Gate? Instead of the usual stations, the most photographed sights will be shown on this map.
With almost 29 million hotel stays a year, Berlin is one of the most popular destinations in Europe. With a selfie-stick in front of the Berlin TV Tower, a reflex camera at the Brandenburg Gate, a shoot in front of the Reichstag: thousands of souvenir photos are taken daily. But which of these sights are the most popular and the most photographed? All indicated sights show peak results on social media and photo portals such as Instagram and Tumblr.:
The top 5 of Berlin's sights
TV Tower
Brandenburger Tor
East Side Gallery
Reichstag
Checkpoint Charlie
Special service: Map and check list for printing downloadable as PDF file here
But don't spend too much time on the underground – most of the sights are outside!
Share the graph:
<a /wp-content/uploads/Metro-Berlin_EN_960_preview.jpg" title="metro-berlin_960_preview"><img src="/wp-content/uploads/Metro-Berlin_EN_960_preview.jpg" alt="U-Bahn-Plan Berlin" ></a>