1. Upload photo

2. Choose a size

3. Order canvas print

---
Canvases
Canvas pictures are the most successful photo gift in large format these days. Everyone has seen one of these impressive pieces of wall art somewhere before. And many will already have one on a wall at home. There are good reasons for this: Canvas pictures are impressive due to their sheer size. And ordering photo canvases is so easy these days over the internet.
Did you know? More than 250,000 have been thrilled by our products. 97% of our customers rate us with GOOD or VERY GOOD.
---
---
---
Canvas pictures uk
You will find you have a lot of decisions to make when ordering your own photo canvas. Which photo should you choose? Which photo is especially suitable for printing on to canvas? Fortunately, the technical requirements for printing a photo to canvas are, on the other hand, low these days. So almost every photo taken with a modern smartphone is suitable for printing a photo canvas. Resolutions over over 2 million are sufficient to print even an XXL format canvas picture.
---
Canvas photography
Canvas pictures are a great way of displaying your own photography at home and beautifying your surroundings with your own artwork. Canvases are often used as an eye-catcher above the sofa. But they are also perfect for over the bed or over a chest of drawers as a single artwork.
When choosing your photos, you should definitely be led by the heart. The more the photo speaks to you emotionally, the more pleasure you will get from it in the years to come. Of course the selection isn't made any easier by the fact that we all thousands of photos at our disposal these days thanks to smartphones. But even for those of us who find it hard to choose just one photo for their canvas, there is a solution: A photo collage will allow you to create a canvas using several photos. One collage can contain anywhere from 2 to 100 photos.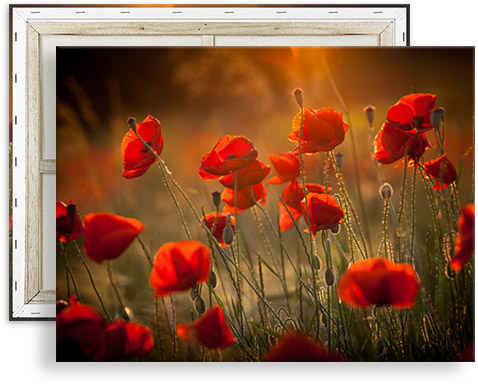 Product view
Detail view
In the room
---
Canvas pics
Creating canvas pics is easy these days. A photo can be uploaded in mere seconds. Then you just have to select your preferred options and your large-format canvas pictures will be with you a few days later. What do you have to watch out for when ordered your canvas pictures?
The canvas used is crucial to the overall impression of the finished product. We print on semi-matte canvas on which the characteristic, canvas surface structure stands out particularly well. The printed canvases are stretched over a wooden frame, which is available in two variants. The standard variant is 2 cm thick. The gallery variant is produced on a 4 centimetre stretcher frame.
Canvas printing is carried out these days exclusively in a direct printing process. This ensures high resolution and bright colours on the finished canvas pictures. A 75-year warranty on the colour fastness demonstrates the high-quality and durability of the inks used these days to print canvas pictures.
---
2 cm Standard
Stretcher frame
FREE

4 cm Gallery
Stretcher frame
5 GBP

---
Canvas portraits
There are two attractive variants available, if you want to have a picture or portrait printed on to canvas. In the standard format, the stretcher frame is 2 cm thick. If you are planning a larger format or if a top-quality impression is important to you, you should choose the 4 cm gallery variant instead. Here, the stretcher frame is twice as thick as the standard version (please take this into consideration when planning in the edge of the motif!). Photographers and galleries are fans of this effect: They predominantly choose the gallery variant for their canvas pictures.
---
Canvas pictures on wall
In contrast to the other popular wall pictures made of acrylic glass or Alu-Dibond, canvas pictures also offer another unusual design option: The edge of the canvas, which is wrapped around the wooden frame, can be ordered in different variations. Depending on your motif, the edge options can have a decisive effect on the impression the canvas picture makes.
Most customers choose the wrapped edge. Here, the canvas is simply wrapped around the sides of the wooden frame and secured at the back. Because of the continuation of the motif from the front to the sides, a three-dimensional effect is created.
If the motif isn't suited to this (because important elements of the motif would be lost from the front of the canvas picture), the edge can also be mirrored. This way, an additional motif space is created without losing elements from the front.
If neither the wrapped or mirrored edges work well, a third option is to have a monochrome edge for the canvas print in black or white. Black & white images are an especially good match for this.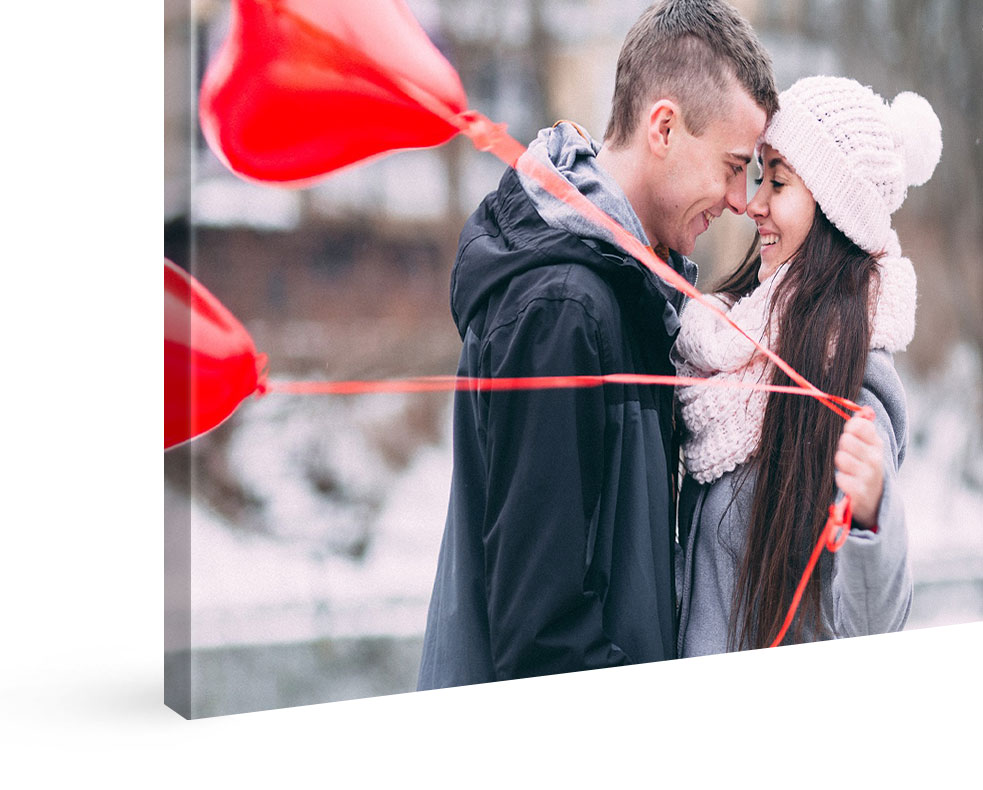 Printed
Black
White
Mirrored
---
Pictures and canvases
Ordering canvas pictures online is very easy at photo-on-canvas.co.uk. Just decide on your motif and upload it online. A first quality check will be undertaken already at this stage: The photo will be analysed automatically to see if it is suitable and for which sizes of canvases. Only suitable sizes will be displayed in the subsequent format selection.
Once you have selected the right size for your canvas pictures and decided on the variant you prefer, you can chose from the various delivery methods. Even the standard delivery service will ensure that your canvas pictures are with you in just a few days. If your photo on canvas must be delivered earlier, because you want to give them as presents for example, we offer a photo canvas express service. But the 24 hour service is the fastest of all. Here, your canvas pictures will be delivered the very next day.
Tip: The JPEG file format is perfectly suitable for uploading the images for your photo canvas.
---
Further information
Canvas print info
Prices
Delivery times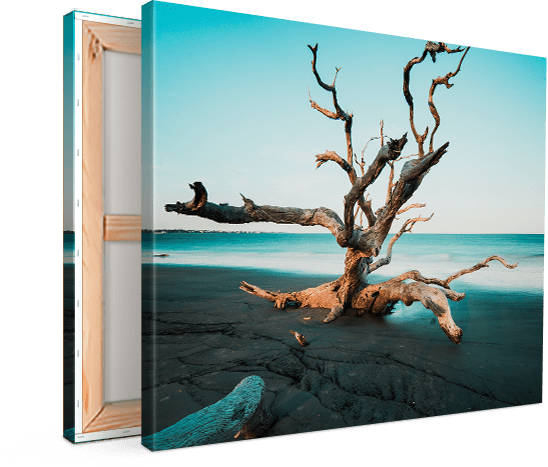 Canvas information
Real canvas made from 100% cotton
Fastened onto wooden frame
Modern HP© printing technology
75 year colour guarantee
Made in Germany
---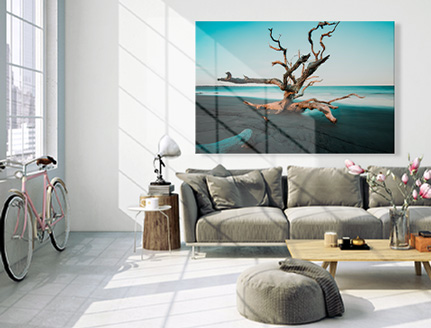 Detailed information
Original artist canvas made from 360 g/m² cotton with a smooth linen structure
Fastened onto wooden frame + 8 tensioning wedges incl.
Modern canvas printing technology with HEWLETT PACKARD© (HP – True Colour Technology)
Choice of frame: standard 0.8 in (2 cm) or gallery 1.6 in (4 cm)
Express or Next Day delivery available
Environmentally friendly: produced from over 99% sustainable raw materials
Your canvas is available in the following thickness: 0.8 in (2 cm) / 1.6 in (4 cm)
Size
RRP
Price
Choose size

XS

20 x 20 cm

£30.00

£19.00

£30.00

select

XS

30 x 20 cm

£20.00

£25.00

select

XS

30 x 30 cm

£25.00

£35.00

select

XS

40 x 30 cm

£69.00

£30.00

£40.00

select

XS

40 x 40 cm

£30.00

£40.00

select

S

50 x 50 cm

£45.00

£55.00

select

S

60 x 40 cm

£45.00

£55.00

select

S

70 x 50 cm

£50.00

£63.00

select

M

80 x 60 cm

£99.00

£65.00

£75.00

select

M

90 x 60 cm

£99.00

£70.00

£90.00

select

L

120 x 80 cm

£100.00

£115.00

select

XL

150 x 100 cm

£150.00

£170.00

select
Delivery discount on multiple purchases (same size)
All prices incl. VAT.
When will your canvas print be delivered:
TODAYOrder
now

Next Day*deliveryguaranteed

EXPRESSdeliveryexpected

STANDARDdeliveryexpected

Sun
Mon
Tue
Wed
Thurs
Fri
Sat
Sun
Mon
Tue
24
Mar.
25
Mar.
26
Mar.
27
Mar.
28
Mar.
29
Mar.
30
Mar.
31
Mar.
01
Apr.
02
Apr.
* Next Day delivery only available if ordered before midday
Our delivery companies:

---
Delivered to
| | Size | Next Day Upgrade | Express Upgrade | Delivery |
| --- | --- | --- | --- | --- |
| XS | 8 x 8 in | £89.95 | £5.95 | £12.95 |
| XS | 12 x 8 in | £89.95 | £5.95 | £12.95 |
| XS | 12 x 12 in | £89.95 | £5.95 | £12.95 |
| XS | 16 x 12 in | £89.95 | £5.95 | £12.95 |
| XS | 16 x 16 in | £89.95 | £5.95 | £12.95 |
| S | 20 x 20 in | £89.95 | £7.95 | £15.95 |
| S | 24 x 16 in | £89.95 | £7.95 | £15.95 |
| S | 28 x 20 in | £89.95 | £7.95 | £15.95 |
| M | 32 x 24 in | £89.95 | £7.95 | £15.95 |
| M | 36 x 24 in | £139.95 | £9.95 | £19.95 |
| L | 48 x 32 in | £139.95 | £12.95 | £19.95 |
| XL | 60 x 40 in | £0.00 | £12.95 | £29.95 |
Prices incl. VAT.
Delivery discount on multiple purchases (same size)
All delivery prices and times
---
---
This might also interest you