3-panel

4-panel

4-panel

5-panel

7-panel

11-panel
Add photosDelete all photos
Simply drag and drop your photos here
---
The lastest trend – stairway wall decorating
After having spent a lot of time thinking about your home interior, planning it and finally excuting it, one part of the house is all too often simply forgotten about, and that is your very own staircase! Stairway wall decorating or staircase wall decoration is not only a great way for you to make sure you have added personality to one of your most visible blank canvases, but it can also turn your usually functional stairs, can become a real statement piece thanks to gallery wall stairs.
---
Choose your picture wall stairs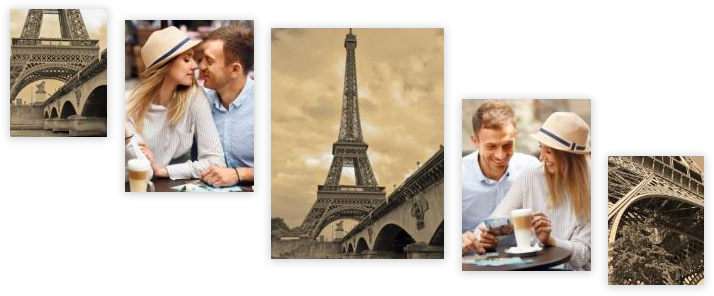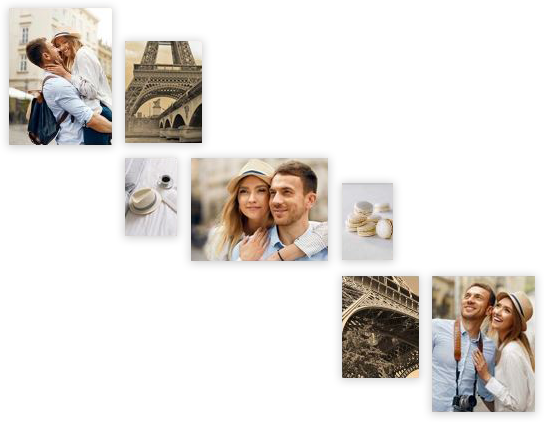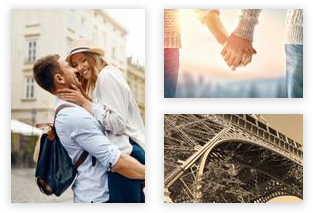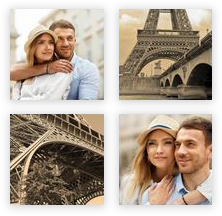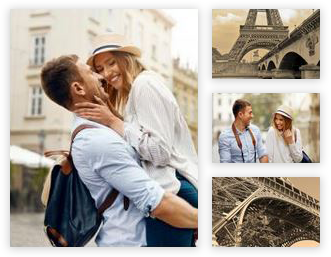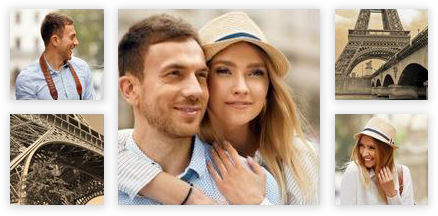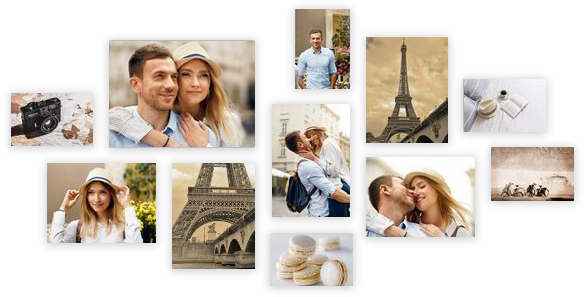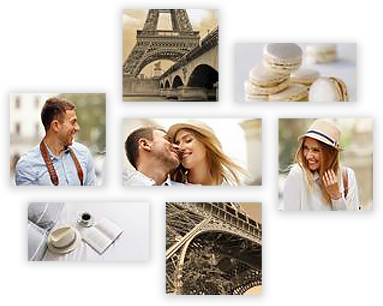 Use this template
of 9
---
Gallery layout ideas for your stairs
Whether you are trying to create a classic stairs side wall decoration that can for instance be in tune with the holiday season, or a gallery wall going up stairs, the amount of possibilities can be infinite! One of the popular options is to proudly show your family members, from youngest to eldest on the stairs side wall. If members of your clan are more camera-shy, you can also opt for a more artsy gallery wall stairs scheme, with a demure black and white monochromatic theme, or on the opposite side of the spectrum, go a for cheerful rainbow coloured concept!
Did you know? You can use our PDF hanging instructions to easily put up your picture wall!
---
ORLANDO
5-piece picture wall stairs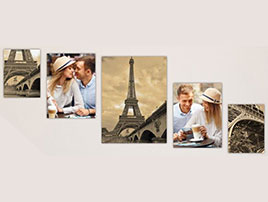 Overall size from 210×80 cm
(in 3 sizes available)
£315
£225
Create
HOUSTON
6-piece picture wall stairs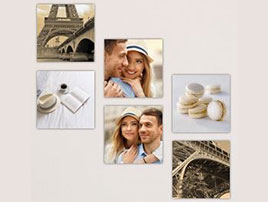 Overall size from 90×90 cm
(in 3 sizes available)
£156
£225
Create
BALTIMORE
7-piece picture wall stairs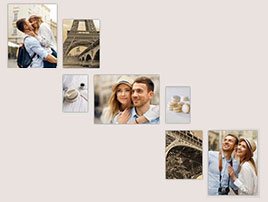 Overall size from 170×150 cm
(in 2 sizes available)
£363
£230
Create
---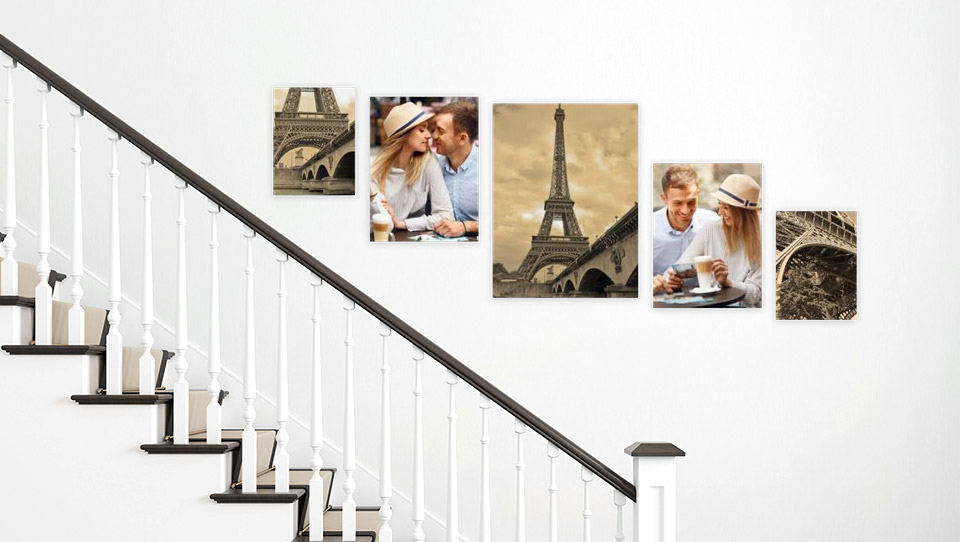 ---
---
Look for wall art prints – Over 1,000 spectacular designs
Great motifs for your wall.
---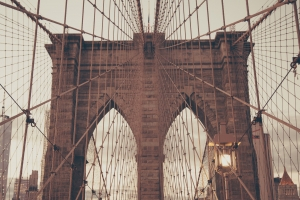 Brooklyn Bridge I
60 x 40 cm from £15.90
Cities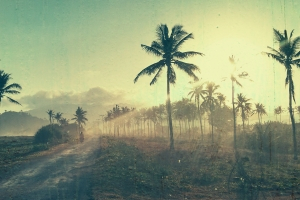 Farewell Road
60 x 40 cm from £15.90
Nature
Morning Sea
60 x 40 cm from £15.90
Landscape
---
Create your gallery wall in your stairs
What is also important to bear in mind when designing your picture wall stairs is that size does matter! A fun idea can be to go for increasingly large pieces as you make your way up the gallery wall going up stairs. A great way to get an idea of what your stairway decorating skills can look like is by using our super simple picture editor. All you need to do is upload your favorite pictures and then play around with various sizes and layouts until you find what works best for you! Stairs side wall decoration will no longer be something neglected.
Did you know? Our customers have rated us 4.8/5 EXCELLENT
---
Further information
Picture wall stairs info
Prices
Delivery times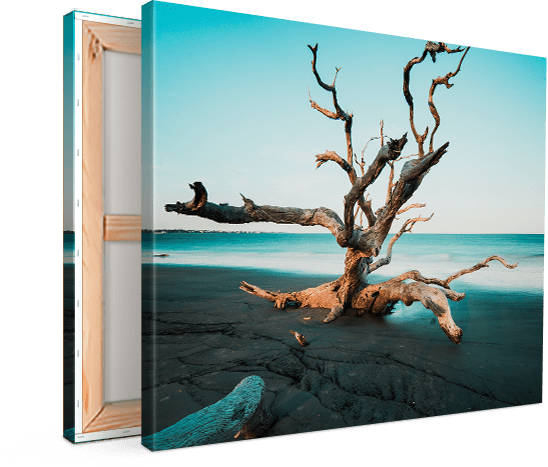 Canvas information
Real canvas made from 100% cotton
Fastened onto wooden frame
Modern HP© printing technology
75 year colour guarantee
Made in Germany
---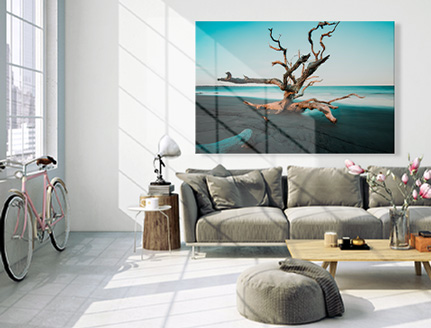 Detailed information
Original artist canvas made from 360 g/m² cotton with a smooth linen structure
Fastened onto wooden frame + 8 tensioning wedges incl.
Modern canvas printing technology with HEWLETT PACKARD© (HP – True Colour Technology)
Choice of frame: standard 0.8 in (2 cm) or gallery 1.6 in (4 cm)
Express or Next Day delivery available
Environmentally friendly: produced from over 99% sustainable raw materials
Name
Price
Picture wall CHARLOTTE (7-piece)

(was 127 GBP)

only 70 GBP
Picture wall SEATTLE (4-piece)

(was 156 GBP)

only 75 GBP
Picture wall MIAMI (4-piece)

(was 196 GBP)

only 110 GBP
Picture wall ATLANTA (5-piece)

(was 215 GBP)

only 111 GBP
Picture wall BOSTON (7-piece)

(was 345 GBP)

only 205 GBP
Picture wall NEW YORK (11-piece)

(was 459 GBP)

only 300 GBP
Picture wall ORLANDO (5-piece)

(was 315 GBP)

only 225 GBP
Picture wall HOUSTON (6-piece)

(was 264 GBP)

only 150 GBP
Picture wall BALTIMORE (7-piece)

(was 363 GBP)

only 230 GBP
Delivery discount on multiple purchases (same size)
All prices incl. VAT.
When will your picture wall stairs be delivered:
TODAYOrder
now

Next Day*deliveryguaranteed

EXPRESSdeliveryexpected

STANDARDdeliveryexpected

Tue
Wed
Thurs
Fri
Sat
Sun
Mon
Tue
Wed
Thurs
26
Mar.
27
Mar.
28
Mar.
29
Mar.
30
Mar.
31
Mar.
01
Apr.
02
Apr.
03
Apr.
04
Apr.
* Next Day delivery only available if ordered before midday
Our delivery companies:

---
Delivered to
| | Size | Next Day Upgrade | Express Upgrade | Delivery |
| --- | --- | --- | --- | --- |
| XS | 8 x 8 in | £89.95 | £5.95 | £12.95 |
| XS | 12 x 8 in | £89.95 | £5.95 | £12.95 |
| XS | 12 x 12 in | £89.95 | £5.95 | £12.95 |
| XS | 16 x 12 in | £89.95 | £5.95 | £12.95 |
| XS | 16 x 16 in | £89.95 | £5.95 | £12.95 |
| S | 20 x 20 in | £89.95 | £7.95 | £15.95 |
| S | 24 x 16 in | £89.95 | £7.95 | £15.95 |
| S | 28 x 20 in | £89.95 | £7.95 | £15.95 |
| M | 32 x 24 in | £89.95 | £7.95 | £15.95 |
| M | 36 x 24 in | £139.95 | £9.95 | £19.95 |
| L | 48 x 32 in | £139.95 | £12.95 | £19.95 |
| XL | 60 x 40 in | £0.00 | £12.95 | £29.95 |
Prices incl. VAT.
Delivery discount on multiple purchases (same size)
All delivery prices and times
---
---
This might also interest you