1. Upload photo

2. Choose a size

3. Order canvas print

---
Turn photo into canvas
Many already have one but just about everyone will have seen one: a photo on canvas. To turn photo into canvas is one of the most popular methods these days of creating wall art using your own images. And not without reason: Turn pictures into canvas now for impressive results in the blink of an eye.
The enormous range of sizes also makes the photo canvas so popular. You can order your canvas prints online in formats of 20×20 to 210×140.
Did you know? More than 250 000 have been thrilled by our canvas products. 97% of our customers rate us with GOOD or VERY GOOD.
---
---
---
Turn photos into canvas prints
It has never been easier to turn photos into canvas online. Just select your photo on your smartphone, tablet or computer and upload it online. You can select the size and variant for your photo canvas on our platform.
But which photo should you choose? What are the requirements to turn a photo into canvas? The answer: Choose always the most emotional motif. The photo that you love the most. The technical requirements for printing a photo to canvas is, on the other hand, low these days. Practically every digital photo taken with current technology is suitable for making an online photo canvas.
---
Turn your photos into canvas prints
If you're looking for a unique decorating idea for your home, you can't go wrong with a canvas print. We make it easy for you to turn your photos into canvas prints with no need for expensive software or special photo editing skills. Simply upload the pictures you would like printed onto canvas and we'll help you turn your photos into canvas prints in just a few clicks. Select the size and frame variant that best suits the space you have available. But remember: XXL format canvas prints look especially impressive and provide every room with that wow factor.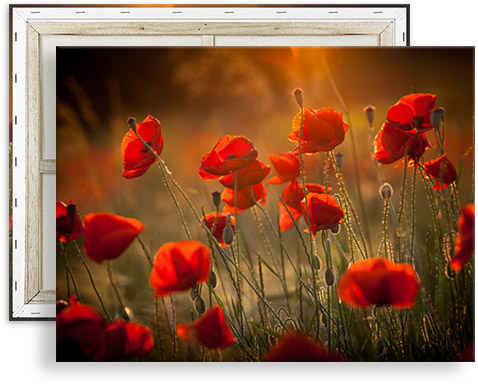 Product view
Detail view
In the room
---
Turning pictures into canvas prints
A photo on canvas is especially impressive when the print is carried over the edge, since this produces a three-dimensional effect. We also offer other options, however, to create a piece of wall art that is truly individual. Turn a photo into a canvas to bring a sense of style to your home. Upload your photo and see how easy it is: turn pictures into canvas prints with a few clicks and select one of our delivery options to have your print in your hands in no time at all. You can also print collage canvas.
Tip: The JPEG file format is perfectly suitable for uploading the images for your photo canvas.
---
Further information
Canvas print info
Prices
Delivery times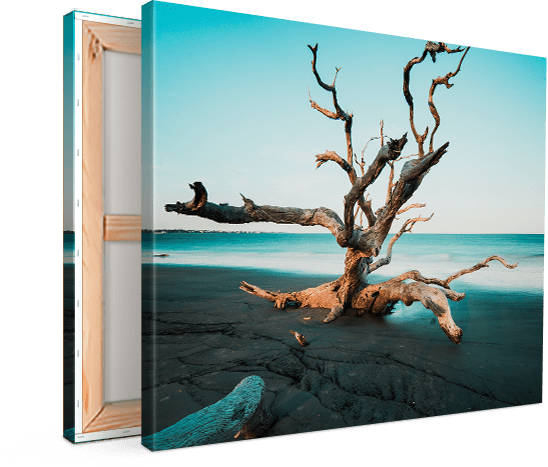 Canvas information
Real canvas made from 100% cotton
Fastened onto wooden frame
Modern HP© printing technology
75 year colour guarantee
Made in Germany
---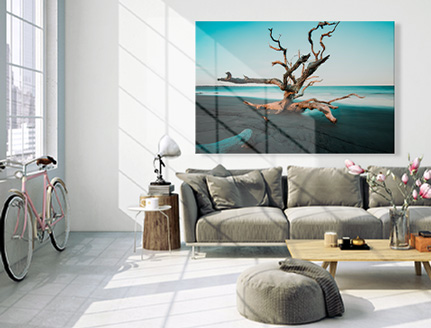 Detailed information
Original artist canvas made from 360 g/m² cotton with a smooth linen structure
Fastened onto wooden frame + 8 tensioning wedges incl.
Modern canvas printing technology with HEWLETT PACKARD© (HP – True Colour Technology)
Choice of frame: standard 0.8 in (2 cm) or gallery 1.6 in (4 cm)
Express or Next Day delivery available
Environmentally friendly: produced from over 99% sustainable raw materials
Your canvas is available in the following thickness: 0.8 in (2 cm) / 1.6 in (4 cm)
Size
RRP
Price
Choose size

XS

20 x 20 cm

£30.00

£19.00

£30.00

select

XS

30 x 20 cm

£20.00

£25.00

select

XS

30 x 30 cm

£25.00

£35.00

select

XS

40 x 30 cm

£69.00

£30.00

£40.00

select

XS

40 x 40 cm

£30.00

£40.00

select

S

50 x 50 cm

£45.00

£55.00

select

S

60 x 40 cm

£45.00

£55.00

select

S

70 x 50 cm

£50.00

£63.00

select

M

80 x 60 cm

£99.00

£65.00

£75.00

select

M

90 x 60 cm

£99.00

£70.00

£90.00

select

L

120 x 80 cm

£100.00

£115.00

select

XL

150 x 100 cm

£150.00

£170.00

select
Delivery discount on multiple purchases (same size)
All prices incl. VAT.
When will your canvas print be delivered:
TODAYOrder
now

Next Day*deliveryguaranteed

EXPRESSdeliveryexpected

STANDARDdeliveryexpected

Sun
Mon
Tue
Wed
Thurs
Fri
Sat
Sun
Mon
Tue
24
Mar.
25
Mar.
26
Mar.
27
Mar.
28
Mar.
29
Mar.
30
Mar.
31
Mar.
01
Apr.
02
Apr.
* Next Day delivery only available if ordered before midday
Our delivery companies:

---
Delivered to
| | Size | Next Day Upgrade | Express Upgrade | Delivery |
| --- | --- | --- | --- | --- |
| XS | 8 x 8 in | £89.95 | £5.95 | £12.95 |
| XS | 12 x 8 in | £89.95 | £5.95 | £12.95 |
| XS | 12 x 12 in | £89.95 | £5.95 | £12.95 |
| XS | 16 x 12 in | £89.95 | £5.95 | £12.95 |
| XS | 16 x 16 in | £89.95 | £5.95 | £12.95 |
| S | 20 x 20 in | £89.95 | £7.95 | £15.95 |
| S | 24 x 16 in | £89.95 | £7.95 | £15.95 |
| S | 28 x 20 in | £89.95 | £7.95 | £15.95 |
| M | 32 x 24 in | £89.95 | £7.95 | £15.95 |
| M | 36 x 24 in | £139.95 | £9.95 | £19.95 |
| L | 48 x 32 in | £139.95 | £12.95 | £19.95 |
| XL | 60 x 40 in | £0.00 | £12.95 | £29.95 |
Prices incl. VAT.
Delivery discount on multiple purchases (same size)
All delivery prices and times
---
---
This might also interest you