1. Upload photo

2. Choose a size

3. Order canvas

---
30x40 canvas print
The 30x40 canvas photo is one of the most popular formats. This has a simple reason: The print size is the smallest format that corresponds to the digital photo format which has long since dominated, with a side ratio of 4:3. The 30 x 40 photo canvas format is also a typical entry format for ordering canvas prints online. And even today the format is popular as a gift. There's a good reason for this too. It is a personalised photo gift that is both high-quality and individual. Nothing can go wrong if you opt for this classic size.
Did you know? More than 250,000 have been thrilled by our products. 97% of our customers rate us with GOOD or VERY GOOD.
---
Your canvas print in different sizes


40 x 30 cm


60 x 45 cm


80 x 60 cm


120 x 90 cm


160 x 120 cm
---
---
Canvas prints 30x40
If you want to create this canvas, we recommend the 2 centimetre standard version of the stretching frame. This variant is more than sufficient for this size.
How you design the frame edge of your canvas print will depend on the motif and the size of the image. Most customers prefer the wrapped edge. In this case, the motif is carried over the edge of the frame. This looks great but only works if you don't lose significant parts of your motif in doing so. Since the 40x30 canvas is one of the smaller formats, the mirrored edge is often chosen instead. This means that the entire motif stays on the front of your canvas.
Tip: The JPEG file format is perfectly suitable for uploading the images for your photo canvas.
---
Customer reviews
Patrik Titser
Review in Hibaldstow
Product: Canvas print Verified purchase
I can't complain. The quality and the service was spot on
Clare P.
Review in United Kingdom
Product: Canvas print Verified purchase
This is the second canvas I have purchased. I am so pleased with them both. The quality is superb and the extra large canvas I purchased previously exceeded all my expectations!
---
Deirdre S.
Review in Stroud
Product: Canvas print Verified purchase
Extremely pleased with my canvas. I am an amateur photographer and love taking photos of the countryside around me. I wasn't sure what it would look like blown up and put onto canvas - I was a bit concerned that the picture might look pixelated, but I need not have worried - the quality is excellent, canvas feels more like material and the ordering process simple. I will definitely be using you again !
Elaine Darrell
Review in Presteigne
Product: Canvas print Verified purchase
Great price, great condition, & good information on posting & receiving.
---
---
---
Further information
Canvas print info
Prices
Delivery times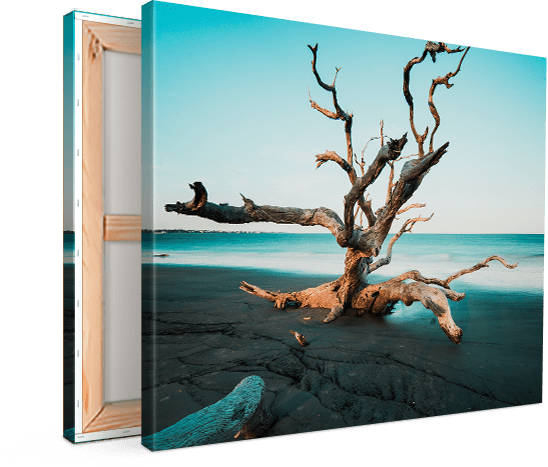 Canvas information
Real canvas made from 100% cotton
Fastened onto wooden frame
Modern HP© printing technology
75 year colour guarantee
---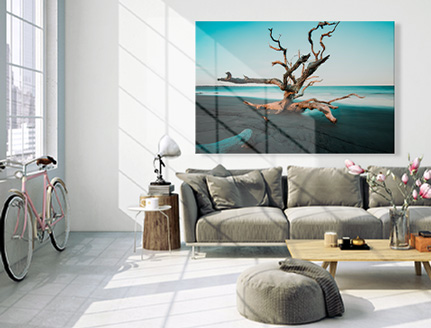 Detailed information
Original artist canvas made from 360 g/m² cotton with a smooth linen structure
Fastened onto wooden frame + 8 tensioning wedges incl.
Modern canvas printing technology with HEWLETT PACKARD© (HP - True Colour Technology)
Choice of frame: standard 2 cm or gallery 4 cm
Next Day Express delivery or PRIO production available
Environmentally friendly: produced from over 99% sustainable raw materials
Your canvas is available in the following thickness: 2 cm / 4 cm
Size
RRP
Price
Choose size

XS

20 x 20 cm

£30.00

£19.00

£30.00

select

XS

30 x 20 cm

£20.00

£25.00

select

XS

30 x 30 cm

£25.00

£35.00

select

XS

40 x 30 cm

£69.00

£30.00

£40.00

select

XS

40 x 40 cm

£30.00

£40.00

select

S

50 x 50 cm

£45.00

£55.00

select

S

60 x 40 cm

£45.00

£55.00

select

S

70 x 50 cm

£50.00

£63.00

select

M

80 x 60 cm

£99.00

£65.00

£75.00

select

M

90 x 60 cm

£99.00

£70.00

£90.00

select

L

120 x 80 cm

£100.00

£115.00

select

XL

150 x 100 cm

£150.00

£170.00

select
Delivery discount on multiple purchases (same size)
.
When will your canvas print be delivered:
TODAYOrder
now

Next Day*
EXPRESSdelivery
guaranteed

PRIO**delivery
expected

STANDARDdelivery
expected

Wed
Thurs
Fri
Sat
Sun
Mon
Tue
Wed
Thurs
Fri
08
Dec.
09
Dec.
10
Dec.
11
Dec.
12
Dec.
13
Dec.
14
Dec.
15
Dec.
16
Dec.
17
Dec.
Order weekdays until 11 a.m.:
* Guaranteed delivery next working day
** Prioritised production and standard delivery
Our delivery companies:

---
Delivered to
| | Size | Next Day EXPRESS Upgrade | PRIO Upgrade | Delivery |
| --- | --- | --- | --- | --- |
| XS | 30 x 20 cm | £69.95 | £5.95 | £22.95 |
| XS | 40 x 30 cm | £69.95 | £5.95 | £22.95 |
| XS | 45 x 30 cm | £69.95 | £5.95 | £22.95 |
| S | 60 x 40 cm | £74.95 | £7.95 | £15.95 |
| S | 60 x 45 cm | £74.95 | £7.95 | £15.95 |
| S | 75 x 50 cm | £74.95 | £7.95 | £15.95 |
| M | 80 x 60 cm | £74.95 | £7.95 | £15.95 |
| M | 90 x 60 cm | £79.95 | £9.95 | £19.95 |
| M | 100 x 75 cm | £79.95 | £9.95 | £19.95 |
| M | 105 x 70 cm | £95.95 | £12.95 | £19.95 |
| L | 120 x 80 cm | £95.95 | £12.95 | £19.95 |
| L | 120 x 90 cm | £95.95 | £12.95 | £19.95 |
Prices incl. VAT.
Delivery discount on multiple purchases (same size)
All delivery prices and times
---
---
This might also interest you