1. Upload photo

2. Choose a size

3. Order canvas print

---
Big canvas prints
Not everyone has a home big enough to hang extra large canvas prints. This is because of the impressive dimensions in which the canvases can be printed.
But if you have the space, a large canvas photo is sure to impress your guests. After all, large canvas photo prints a always a stand-out way to decorate. An effect, which all the hip cafés and bars use to their advantage: They are also very fond of decorating with large canvas prints.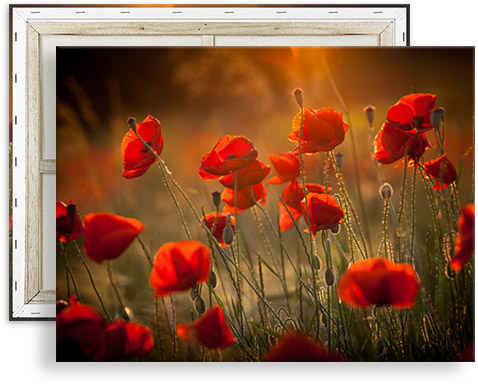 Product view
Detail view
In the room
Did you know? You can choose from over 100 sizes up to 2 x 1.5 metres!
---
Not sure which XXL canvas print size is the best for you?


100 x 75 cm


120 x 90 cm


140 x 105 cm


150 x 100 cm


210 x 140 cm
---
---
Giant canvas prints
Large canvas prints are not as affected by the design of the edges of the frame as smaller ones. In large canvas prints, the proportion of the image that is wrapped around the sizes of the frame is much smaller.
Nevertheless, the whole range of options for the design of the sides is available, even for large canvas prints. The wrapped edge has to be the most popular choice for large canvas prints. If you find that important elements are lost from the front of the image, you can select a mirrored edge. If you are printing you large canvas prints in black & white, a monochrome edge is the perfect fit. Here you can choose between black and white.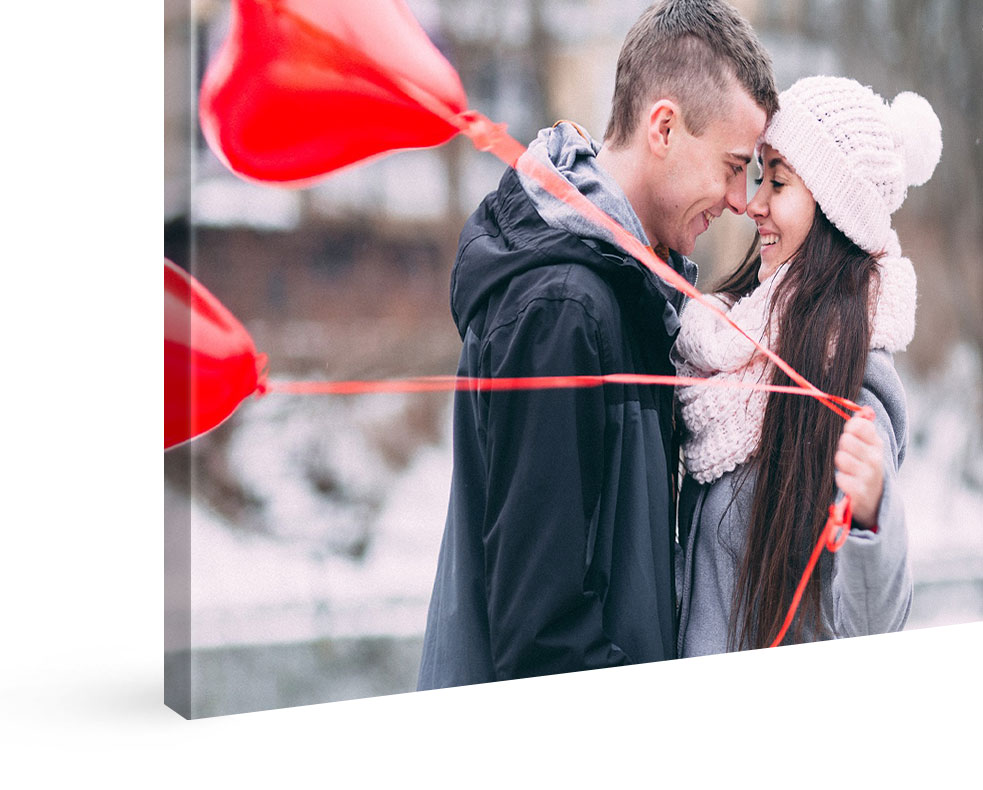 Wrapped
Black
White
Mirrored
---
---
2 cm Standard
Stretcher frame
FREE


4 cm Gallery
Stretcher frame
5 GBP


---
Large canvas prints: Beautify your home with an XXL canvas
No printing medium looks as unbeatably good in XXL as the canvas! This is due to their unique natural texture for one thing, but also to the fact that canvasses used to be reserved solely for artists, studios and galleries.
Fortunately, canvas prints are now available to all. And their good reputation has remained with them: XXL canvasses in particular stand for classic elegance and captivate with their sheer, fabulous size.
Canvas print in XXL - An impressively versatile format
Photo canvasses are also perfect for large formats due to their robust appearance. Sizes from 100 cm in width flatter the poignant effect of photo canvasses in particular. Therefore, it is worthwhile to have professional or very successful amateur photographs printed on large canvasses.
Such images are perfect as an accessory for empty and high walls in the living room area. But the XXL canvas is also ideal for unexpected special effect in long hallways or as a personal touch for the kitchen or bedroom.
In addition, a canvas in XXL is also suitable for a variety of different motifs. Whether landscape photos, holiday pictures, portraits, group photos or romantic couple photos: the classic beauty of the canvas reflects every motif in true colour and at the same time gives it a simple grace. By the way, the XXL canvas is also one of the best print variants for natural motifs or modern urban and architectural photography.
In just a few steps to the individual XXL canvas
Big canvas = big effort? Not with us! We make it super-easy to create your first XXL canvas: In just a few steps, you can tell us your specifications and commission your photo print. This allows you to start immediately once you have a suitable photo at hand. You'll just upload it directly to our site.
The maximum file size for XXL canvasses is 50 MB. It is important that your photo file is in the file formats JPG or PNG. Most devices automatically output photo files in one of these two formats. If this is not the case with your photo, you can easily convert it online or with a free application.
If you have several photos to choose from or if you want to photograph a special subject for your canvas print, you should make sure that the resolution is as high as possible. This applies to all canvas prints, but of course especially to very large formats. After all, as the image surface increases, so does the risk that your photo will end up pixelated or unsharp.
Once you have finally uploaded your image, you can still select the format and frame design. You can choose between the options wrap-printed, black, white or mirrored. With the frame and format selection, you then already saved all the important information for printing your photo file.
Congratulations, you're done! Now you can choose from different shipping options and then look forward to the arrival of your new XXL canvas.
Did you know: All our products use real artist canvas and are made of 100% cotton. They come fixed and finished on a sturdy wooden stretcher frame. With our modern printing technology, we also guarantee you 75 years of real and bright colours!
Your photo canvas in XXL: 5 tips for stunning results
1. Decide before printing where your canvas will hang: With such an impressive photo print as the XXL canvas in particular, you should think carefully before ordering where the image should hang in the end. In contrast to smaller prints, the XXL canvas won't fit just anywhere, of course. It needs a clear space and should ideally hang a little distance away from other images. It should also match the colour scheme of the room and not clash with the colour of your furniture or other images in the vicinity.
2. Watch out for the edge design: Although the selection of the perfect edge is of course absolutely up to you, it can be helpful to pay attention not only to the image motif itself. After all, the room environment will play a central role in the effect of your XXL photo canvas when it is mounted. It is also best to make sure that the selected edge fits well with the wall and your furnishings.
Tip from the professionals: Although the wrap-printed edge is one of the most popular options, we recommend the mirrored border. This option ensures that none of your motif is lost. If you don't necessarily want to print your photo canvas in colour, you should take a look at our monochrome edge designs. You have the choice between a black border and a white border. This can really enhance black and white images in particular and frame the motif beautifully!
3. Order your XXL photo canvas in black and white: You can achieve a particularly beautiful and dramatic look if you not only have your photo canvas printed in large format, but also in black and white. Depending on the subject, you can give your photo a fabulous depth and a certain melancholy this way. Of course, this fits particularly well with sentimental portraits, but also works for urban city photos or other very minimalist or expressive motifs.
4. Don't shy away from canvas in XXXL: XXL canvasses provide an incomparable effect in almost every room. However, you can amp up this effect even more with a XXXL canvas! In addition to our classic formats of from 100 x 75 cm to 210 x 140 cm, we can also print your custom photo canvas for you. We don't hold back: our canvasses come in sizes up to 3 x 1.4 m! Just let us know your desired size and we'll start right away.
5. Always match the desired format with the motif: Although the XXL canvas print is suitable for many different motifs, you should still strive for a good correlation between the motif and the size of the canvas.
While landscapes, nature shots or architectural photos look particularly good in very large panorama canvas formats, portraits or group photos of a certain size can look overwhelming. Therefore, for portraits in particular, it's better to stay in the lower or middle size-ranges for the XXL canvas.
---
---
Further information
Canvas print info
Prices
Delivery times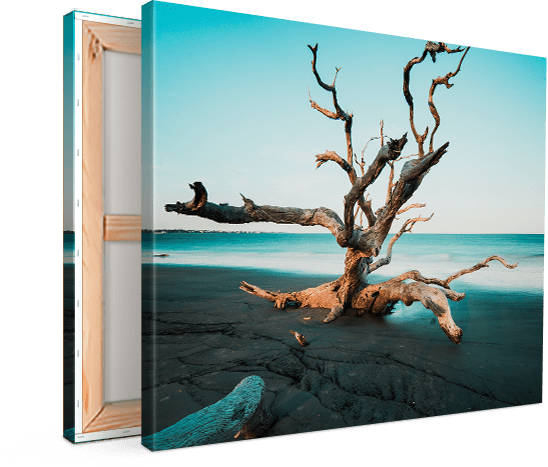 Canvas information
Real canvas made from 100% cotton
Fastened onto wooden frame
Modern HP© printing technology
75 year colour guarantee
---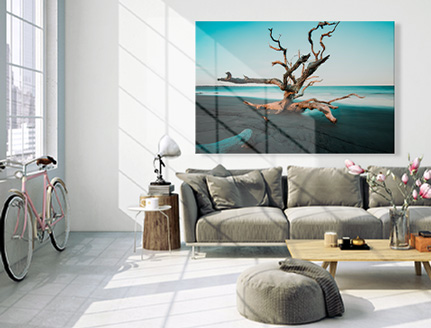 Detailed information
Original artist canvas made from 360 g/m² cotton with a smooth linen structure
Fastened onto wooden frame + 8 tensioning wedges incl.
Modern canvas printing technology with HEWLETT PACKARD© (HP - True Colour Technology)
Choice of frame: standard 2 cm or gallery 4 cm
Next Day delivery or PRIO production available
Environmentally friendly: produced from over 99% sustainable raw materials
Your canvas is available in the following thickness: 2 cm / 4 cm
Size
RRP
Price
Choose size

XS

20 x 20 cm

£30.00

£19.00

£30.00

select

XS

30 x 20 cm

£20.00

£25.00

select

XS

30 x 30 cm

£25.00

£35.00

select

XS

40 x 30 cm

£69.00

£30.00

£40.00

select

XS

40 x 40 cm

£30.00

£40.00

select

S

50 x 50 cm

£45.00

£55.00

select

S

60 x 40 cm

£45.00

£55.00

select

S

70 x 50 cm

£50.00

£63.00

select

M

80 x 60 cm

£99.00

£65.00

£75.00

select

M

90 x 60 cm

£99.00

£70.00

£90.00

select

L

120 x 80 cm

£100.00

£115.00

select

XL

150 x 100 cm

£150.00

£170.00

select
Delivery discount on multiple purchases (same size)
.
When will your canvas print be delivered:
TODAYOrder
now

Next Day*
EXPRESSdelivery
guaranteed

PRIO**delivery
expected

STANDARDdelivery
expected

Thurs
Fri
Sat
Sun
Mon
Tue
Wed
Thurs
Fri
Sat
22
Apr.
23
Apr.
24
Apr.
25
Apr.
26
Apr.
27
Apr.
28
Apr.
29
Apr.
30
Apr.
01
May.
Order weekdays until 11 a.m.:
* Guaranteed delivery next working day
** Prioritised production and standard delivery
Our delivery companies:


---
Delivered to
| | Size | Next Day EXPRESS Upgrade | PRIO Upgrade | Delivery |
| --- | --- | --- | --- | --- |
| XS | 20 x 20 cm | £69.95 | £5.95 | £22.95 |
| XS | 30 x 20 cm | £69.95 | £5.95 | £22.95 |
| XS | 30 x 30 cm | £69.95 | £5.95 | £22.95 |
| XS | 40 x 30 cm | £69.95 | £5.95 | £22.95 |
| XS | 40 x 40 cm | £69.95 | £5.95 | £22.95 |
| S | 50 x 50 cm | £74.95 | £7.95 | £25.95 |
| S | 60 x 40 cm | £74.95 | £7.95 | £25.95 |
| S | 70 x 50 cm | £74.95 | £7.95 | £25.95 |
| M | 80 x 60 cm | £74.95 | £7.95 | £25.95 |
| M | 90 x 60 cm | £79.95 | £9.95 | £29.95 |
| L | 120 x 80 cm | £95.95 | £12.95 | £29.95 |
| XL | 150 x 100 cm | - | £12.95 | £39.95 |
Prices incl. VAT.
Delivery discount on multiple purchases (same size)
All delivery prices and times
---
---
You may also like