1. Upload photo

2. Choose a size

3. Order canvas print

---
Large prints on canvas
Photos on canvas are ideal for larger sizes because they are at their most impressive in stately proportions. Photo-on-canvas.co.uk specialises in large canvas prints and is an expert on the design and decoration of bigger rooms. Large canvas prints are the optimal choice for superb wall decoration in extra large dimensions, especially because they make the most of your own photos. This point is also what makes the large canvas prints so attractive for companies. In this way, representative rooms can be decorated impressively with large-scale photography.
Did you know? We print XXL canvases! Choose from over 100 sizes up to 2 x 1.5 metres
---
Big canvas prints
Not everyone has a home big enough to hang extra large canvas prints. This is because of the impressive dimensions in which the canvases can be printed.
But if you have the space, a large canvas photo is sure to impress your guests. After all, large canvas photo prints a always a stand-out way to decorate. An effect, which all the hip cafés and bars use to their advantage: They are also very fond of decorating with large canvas prints.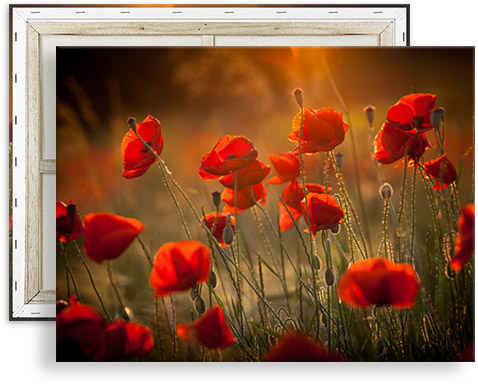 Product view
Detail view
In the room
---
Canvas Prints in XXL
XXL sizes need more stability. Individual canvas photo prints in large formats are only possible thanks to solid, extra-strong frames giving the picture the necessary stability and enabling great tension. In contrast to the 2 cm recommended by us for normal sizes, we recommend gallery frames with a thickness of 4 cm for large canvas prints. In addition, all large formats are reinforced with supplementary rods. This makes a large personalised canvas print more resilient and, at the same time, more valuable. The durability of your canvas is also increased through the use of thicker frames.
---
Not sure which XXL canvas print size is the best for you?


100 x 75 cm


120 x 90 cm


140 x 105 cm


150 x 100 cm


210 x 140 cm
---
---
Giant canvas prints
Large canvas prints are not as affected by the design of the edges of the frame as smaller ones. In large canvas prints, the proportion of the image that is wrapped around the sizes of the frame is much smaller.
Nevertheless, the whole range of options for the design of the sides is available, even for large canvas prints. The wrapped edge has to be the most popular choice for large canvas prints. If you find that important elements are lost from the front of the image, you can select a mirrored edge. If you are printing you large canvas prints in black & white, a monochrome edge is the perfect fit. Here you can choose between black and white.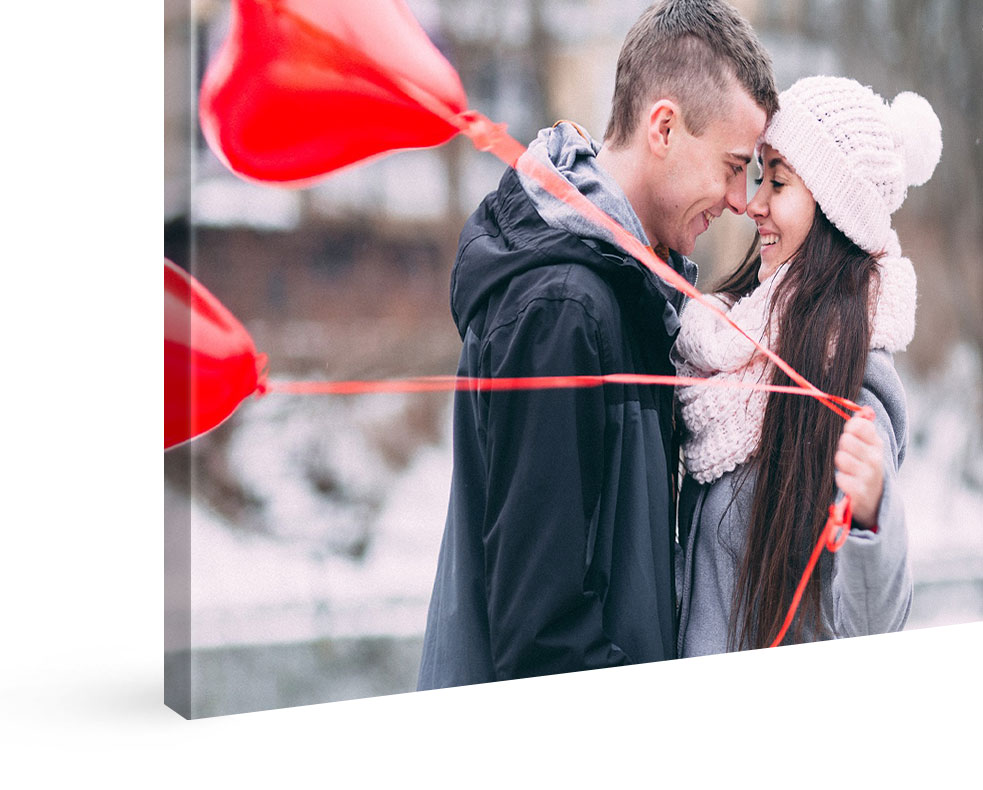 Wrapped
Black
White
Mirrored
---
Large photo prints on canvas
Once your large canvas print has been delivered to you, the question of how to hang it arises. In addition to the usual way of canvas printing using nails or screws, there are also other alternatives. Hooks or holders are suitable for this purpose. These can be screwed into the cross braces of the frame or the outer frame itself. Your large canvas print can then be hung directly from the eyelets on the wall hook using nylon cord.
---
2 cm Standard
Stretcher frame
FREE


4 cm Gallery
Stretcher frame
5 GBP


---
Further information
Canvas print info
Prices
Delivery times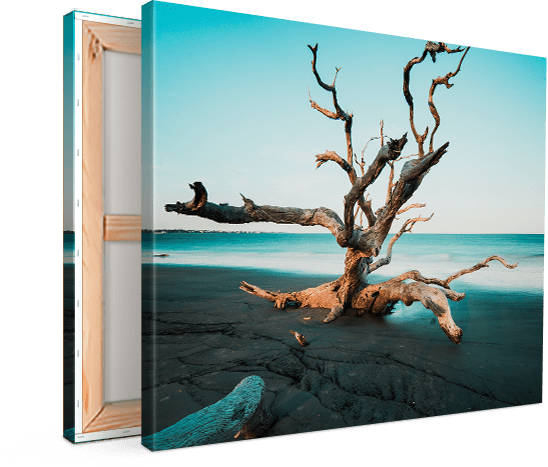 Canvas information
Real canvas made from 100% cotton
Fastened onto wooden frame
Modern HP© printing technology
75 year colour guarantee
---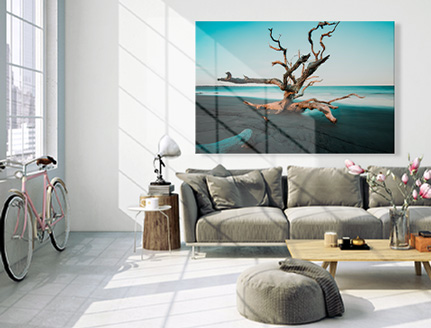 Detailed information
Original artist canvas made from 360 g/m² cotton with a smooth linen structure
Fastened onto wooden frame + 8 tensioning wedges incl.
Modern canvas printing technology with HEWLETT PACKARD© (HP - True Colour Technology)
Choice of frame: standard 2 cm or gallery 4 cm
Next Day delivery or PRIO production available
Environmentally friendly: produced from over 99% sustainable raw materials
Your canvas is available in the following thickness: 2 cm / 4 cm
Size
RRP
Price
Choose size

XS

20 x 20 cm

£30.00

£19.00

£30.00

select

XS

30 x 20 cm

£20.00

£25.00

select

XS

30 x 30 cm

£25.00

£35.00

select

XS

40 x 30 cm

£69.00

£30.00

£40.00

select

XS

40 x 40 cm

£30.00

£40.00

select

S

50 x 50 cm

£45.00

£55.00

select

S

60 x 40 cm

£45.00

£55.00

select

S

70 x 50 cm

£50.00

£63.00

select

M

80 x 60 cm

£99.00

£65.00

£75.00

select

M

90 x 60 cm

£99.00

£70.00

£90.00

select

L

120 x 80 cm

£100.00

£115.00

select

XL

150 x 100 cm

£150.00

£170.00

select
Delivery discount on multiple purchases (same size)
.
When will your canvas print be delivered:
TODAYOrder
now

Next Day*
EXPRESSdelivery
guaranteed

PRIO**delivery
expected

STANDARDdelivery
expected

Thurs
Fri
Sat
Sun
Mon
Tue
Wed
Thurs
Fri
Sat
21
Jan.
22
Jan.
23
Jan.
24
Jan.
25
Jan.
26
Jan.
27
Jan.
28
Jan.
29
Jan.
30
Jan.
Order weekdays until 11 a.m.:
* Guaranteed delivery next working day
** Prioritised production and standard delivery
Our delivery companies:


---
Delivered to
| | Size | Next Day EXPRESS Upgrade | PRIO Upgrade | Delivery |
| --- | --- | --- | --- | --- |
| XS | 20 x 20 cm | £69.95 | £5.95 | £22.95 |
| XS | 30 x 20 cm | £69.95 | £5.95 | £22.95 |
| XS | 30 x 30 cm | £69.95 | £5.95 | £22.95 |
| XS | 40 x 30 cm | £69.95 | £5.95 | £22.95 |
| XS | 40 x 40 cm | £69.95 | £5.95 | £22.95 |
| S | 50 x 50 cm | £74.95 | £7.95 | £25.95 |
| S | 60 x 40 cm | £74.95 | £7.95 | £25.95 |
| S | 70 x 50 cm | £74.95 | £7.95 | £25.95 |
| M | 80 x 60 cm | £74.95 | £7.95 | £25.95 |
| M | 90 x 60 cm | £79.95 | £9.95 | £29.95 |
| L | 120 x 80 cm | £95.95 | £12.95 | £29.95 |
| XL | 150 x 100 cm | - | £12.95 | £39.95 |
Prices incl. VAT.
Delivery discount on multiple purchases (same size)
All delivery prices and times
---
---
You may also like