Canvas prints black and white
They are the epitome of photography and a symbol of emotionality: Black and white photos have always had a very special place in the heart. Black and white canvas prints look elegant and make an especially strong impression. They enable the viewer to concentrate on the story the photo is telling. No bold colours distract from the motif. Black and white canvas prints are perfect in particular for those emotional moments like a hug with someone you love.
Not only the monochrome photography but also the fine materials and sensational depth of sharpness make them really stand out. Black and white canvas pictures are an impressive decorative item and don't have to match any particular colour scheme. Especially when framed on a 4 cm gallery stretcher frame, it will be a real highlight in any home.
Did you know? More than 250,000 have been thrilled by our canvas products. 97% of our customers rate us with GOOD or VERY GOOD.
---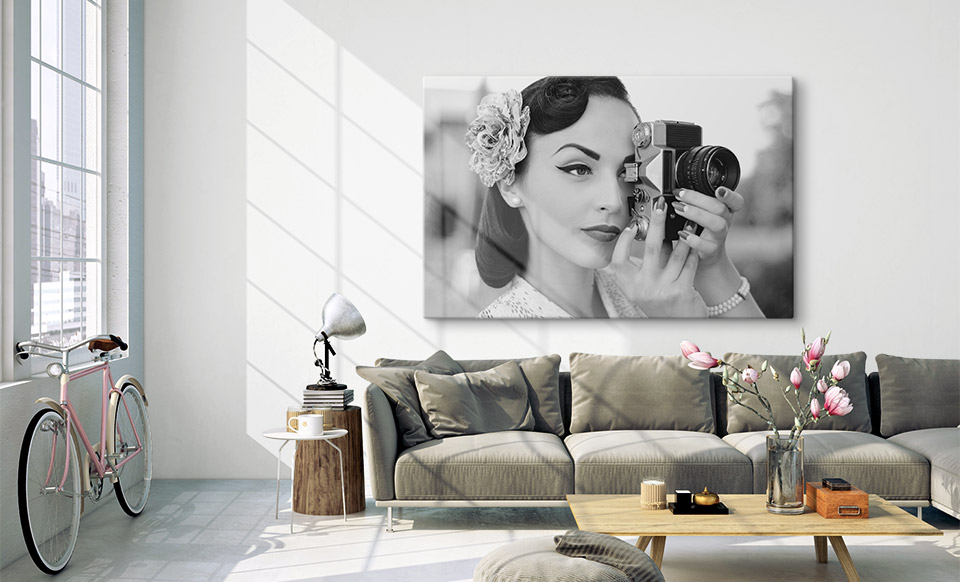 ---
---
Canvas pictures black and white
Good contrast is crucial to the success of black and white prints. If a photo is composed primarily of grey tones, it won't impress. You can always increase the contrast of your chosen picture by a few points to optimise it for your canvas.
Before you order your black and white photo canvas, you have to convert your photo file into a true monochrome photo. To do this, you just have to reduce the colour saturation of the photo to monochrome in a photo editing program. This will ensure that you have a real black and white photo and won't have any unwanted sepia effects.
Tip: Use your own black and white photo or use our monochrome conversion function for perfect black and white canvas photos.
Further information
Black & white info
Prices
Delivery times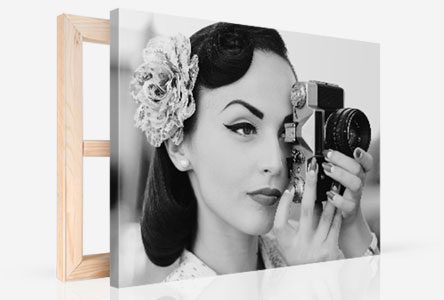 Black & white canvas print information
Converted directly into black and white
Instant preview
Finished canvas stretched over frame
---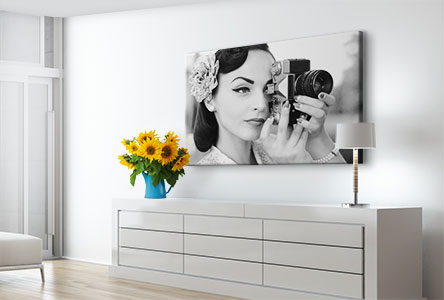 Detailed information
Automatic tone adjustment in greyscale
Printed on real artist's canvas made from 360 g/m² cotton
Stretched onto a real wooden frame + 8 tensioning wedges also included
Printed with the latest HEWLETT PACKARD© (HP – True Color Technology) directly onto canvas
Environmentally friendly: produced using more than 99% renewable raw materials
Your canvas is available in the following thickness: 2 cm / 4 cm
Size
RRP
Price
Choose size

XS

20 x 20 cm

£30.00

£19.00

£30.00

select

XS

30 x 20 cm

£20.00

£25.00

select

XS

30 x 30 cm

£25.00

£35.00

select

XS

40 x 30 cm

£69.00

£30.00

£40.00

select

XS

40 x 40 cm

£30.00

£40.00

select

S

50 x 50 cm

£45.00

£55.00

select

S

60 x 40 cm

£45.00

£55.00

select

S

70 x 50 cm

£50.00

£63.00

select

M

80 x 60 cm

£99.00

£65.00

£75.00

select

M

90 x 60 cm

£99.00

£70.00

£90.00

select

L

120 x 80 cm

£100.00

£115.00

select

XL

150 x 100 cm

£150.00

£170.00

select
Delivery discount on multiple purchases (same size)
.
When will your canvas print be delivered:
TODAYOrder
now

Next Day*
EXPRESSdelivery
guaranteed

PRIO**delivery
expected

STANDARDdelivery
expected

Tue
Wed
Thurs
Fri
Sat
Sun
Mon
Tue
Wed
Thurs
05
Dec.
06
Dec.
07
Dec.
08
Dec.
09
Dec.
10
Dec.
11
Dec.
12
Dec.
13
Dec.
14
Dec.
Order weekdays until 11 a.m.:
* Guaranteed delivery next working day
** Prioritised production and standard delivery
Our delivery companies:

---
Delivered to
| | Size | Next Day EXPRESS Upgrade | PRIO Upgrade | Delivery |
| --- | --- | --- | --- | --- |
| XS | 30 x 20 cm | £69.95 | £5.95 | £22.95 |
| XS | 40 x 30 cm | £69.95 | £5.95 | £22.95 |
| XS | 45 x 30 cm | £69.95 | £5.95 | £22.95 |
| S | 60 x 40 cm | £74.95 | £7.95 | £15.95 |
| S | 60 x 45 cm | £74.95 | £7.95 | £15.95 |
| S | 75 x 50 cm | £74.95 | £7.95 | £15.95 |
| M | 80 x 60 cm | £74.95 | £7.95 | £15.95 |
| M | 90 x 60 cm | £79.95 | £9.95 | £19.95 |
| M | 100 x 75 cm | £79.95 | £9.95 | £19.95 |
| M | 105 x 70 cm | £95.95 | £12.95 | £19.95 |
| L | 120 x 80 cm | £95.95 | £12.95 | £19.95 |
| L | 120 x 90 cm | £95.95 | £12.95 | £19.95 |
Prices incl. VAT.
Delivery discount on multiple purchases (same size)
All delivery prices and times
---
---
You may also like