1. Upload photo

2. Choose a size

3. Order canvas print

---

---
Tip: For long panorama canvas prints from a width of 100 cm, we recommend the 4 cm gallery-format wooden frame.
---
Your individual Panorama Canvas Print
The design of the sides for a panorama canvas print is not as challenging as you might think. There are 4 different side options available. If you go for wrapped edges, you may "lose" a part of your image is this part will be wrapped around the wooden frame. In our preview mode you can see how much of your photo will be used for the sides.
An alternative is the mirrored edge option as the entire motif is preserved and a part of your photo will simply be mirrored and then wrapped.
If you want to have your panoramic canvas printed in black & white, a monochrome edge will look fantastic. This means that your selected motif will not be compromised and the printed edge will match your panoramic canvas perfectly.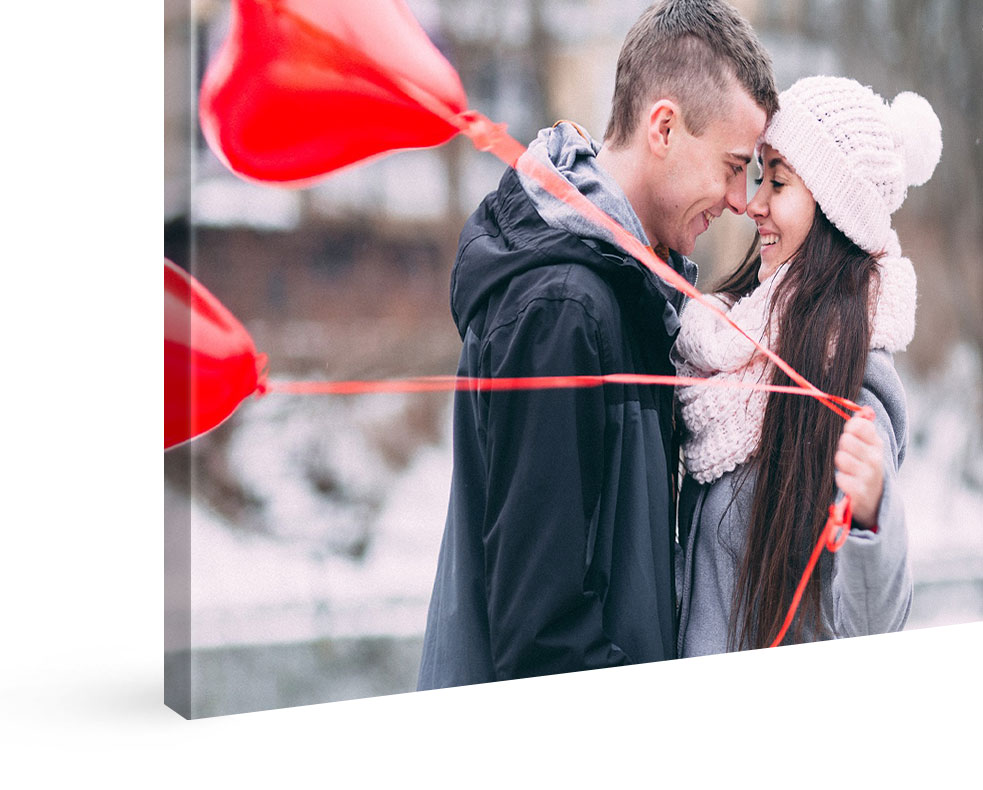 Wrapped
Black
White
Mirrored
---
---
---
The panoramic canvas print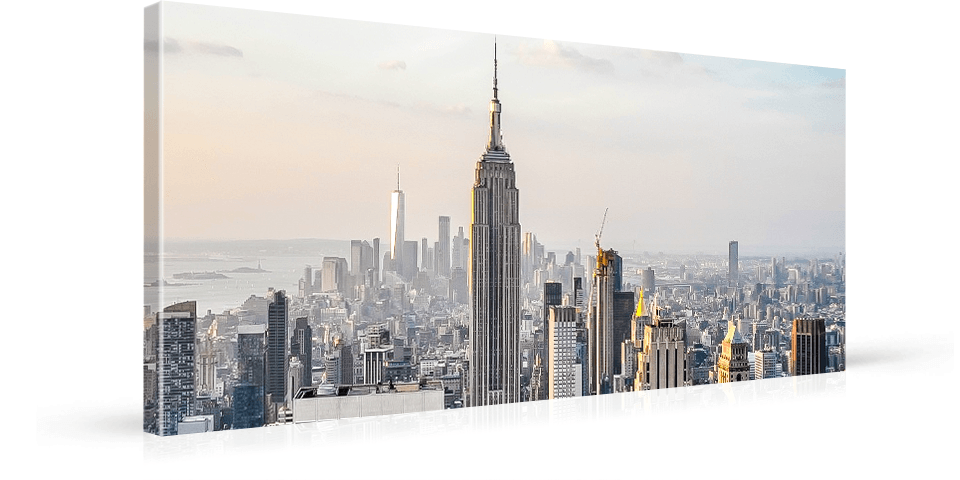 The panoramic canvas print is a spectacular design object.
We print your canvas in panoramic sizes up to 240 x 120 cm. From £25.
---
---
The panorama canvas: a photo print with a really good perspectives
Are you a fan of photographs on canvas? Then you should really get to know the panorama canvas. This variant of the large canvas print comes in many different formats and is therefore very easy to customise.
The special thing about the panorama canvas is that it always comes in a very strongly stylised rectangular format in a ratio of 2:1 or 3:1. The fabulous image width of the panorama canvas makes it especially perfect for large images with perspective!
Canvas in panorama style - these motifs are particularly beautiful
Personalised canvas prints really come into their own on very large formats. So for the canvas applies: the bigger and wider, the better. The panoramic canvas is no exception. On the contrary: with its specific image ratio, it enables unique image crops that set the scene for particularly sweeping and distant motifs.
Skylines, large vehicles, bridges or, more generally, urban and modern photographs with a panoramic look become particularly beautiful.
However, the same applies to plant motifs or holiday photos, which are intended to convey a certain breadth and lavishness. Especially pictures of the sea, of the mountains or deep, green forests and meadows are well suited to the panoramic format.
But this isn't all: group photos, portraits, pictures of festivals or couples photos also look extremely impressive in the panorama format. The same applies to animal photos or photographs from a museum or in public places.
Print panoramic image: How it works!
You don't have to do much to order a panoramic canvas from us. Fortunately, the most important thing comes right at the beginning: choosing the right image. First, you should select a photo file that has a resolution of at least 10 megapixels. It is also important that it is a maximum of 50 MB in size.
For upload to our website, your photo should also be available in JPG or PNG format.
Since most smartphones and cameras output photo files like this anyway, you don't usually have to worry about it.
After uploading your photo, it's time to get done to business: now you can freely choose how big you want to print your panoramic image. We have 12 different panorama sizes at your disposal, all of which have been optimised for the panoramic look. This means that you don't have to worry about the image ratio in any of the formats offered. Our quality promise is always the same: our canvasses come in artist quality without exception.
They are made of the finest cotton, at 360 g per square metre. This is important for the unique structure of the canvas surface, but of course also for excellent colour reproduction. Since we only work with state-of-the-art printing technologies, we can provide you with a colour guarantee of 75 years.
Once you have your picture and the appropriate format, you can choose between 4 different edge options. Above all, you should consider whether the image should stop at the edge of your canvas or continue over the edges. In addition to the wrap-printed border, we also offer the mirrored edge as well as monochrome edges in black and white.
Save all of these details and you're done! Now you can select your shipping method and soon look forward to a new, freshly printed panorama image.
3 tips for your perfect panoramic image on canvas
1. Adjust the motif and crop to the panorama format: Since the panorama image is very wide, your photo should of course be similarly formatted. Square pictures or motifs which are very centred are not ideally suited to the panoramic image on canvas.
You should therefore either take your photo explicitly in panorama format or consider only elongated or rectangular photographs when selecting your image. If your image crop still doesn't want to fit properly, you can also easily crop it manually.
2. Don't fear closeness and distance: Especially because of the extreme image ratios of the panorama canvas, you can immerse yourself wonderfully in a photographic game of closeness and distance. The panoramic format is not only suitable for wide panoramic views of landscapes or roaring seas, but can also beautifully render close-ups of meadows, leaves or colourful flowers.
Just try out a few variations. You will be amazed at how beautiful the results will be.
3. Select a photo with a clear main focus: Another trick in dealing with the panoramic image is the choice of a motif in which a person, an animal, an object or a backdrop is clearly in focus. Ideally, this main focus then fills a large part of the elongated image area. This is particularly successful with photos of people lying down, landscapes or photographs of large animal.
However, it can also be nice to photograph or crop your subject so that it is a little to the side. This leaves a small margin on one side, creating a slight visual imbalance, but to great effect, especially with motifs in motion.
---
Customer reviews
Allan
Review in BARKING
Product: Canvas print Verified purchase
Fantastic service and a very good price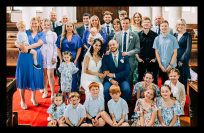 Steve B.
Review in United Kingdom
Product: Canvas print Verified purchase
The photos themselves are great. The delivery experience was awful because I was giving no choice as to when to receive them. I found a way of calling UPS and tried to change a delivery date as was out of the country. Their adviser said they had changed it to a new date but when I returned UPS had just left all the artwork outside my house!! Thankfully it hadn't rained (and they hadn't been stolen) but I'm not at all happy about that. I've complained to UPS but I think you guys need to make a way where people can alter delivery dates more easily, ideally at the start of the process.

---
Stephen
Review in Northchurch
Product: Canvas print Verified purchase
I was really impressed with the quality of the enlargement we received. At 100cm x 100cm I was concerned it the quality might have been degraded but it was absolutely fantastic.

Jerry S.
Review in Ware
Product: Canvas print Verified purchase
Thanks Guys! Excellent canvas print - exactly what we needed and the colours are spot-on too!

---
---
---
Further information
Panorama print info
Prices
Delivery times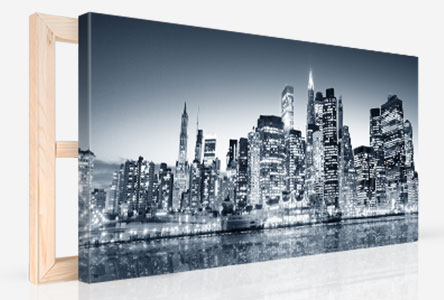 Panoramic print information
Choose from 12 panoramic formats
In aspect ratios of 2:1 and 3:1
Finished canvas stretched over frame
---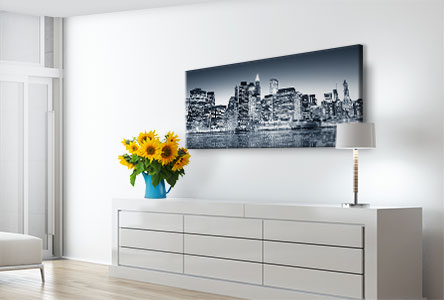 Detailed information
Choose from 12 panoramic print sizes in aspect ratio of 2:1 and 3:1 ultra-wide format
Panoramic formats also available in extra large sizes – up to max. 100 x 50 in 250 x 125 cm
Printed on real artist's canvas made from 360 g/m² cotton
Stretched onto a real wooden frame + 8 tensioning wedges also included
Printed with the latest HEWLETT PACKARD© (HP – True Color Technology) directly onto canvas
Environmentally friendly: Produced using more than 99% renewable raw materials
Your canvas is available in the following thickness: 2 cm / 4 cm
Panoramic
Size
RRP
Price
Choose size

XS

40 x 20 cm

£25.00

£35.00

select

S

60 x 20 cm

£30.00

£40.00

select

S

60 x 30 cm

£35.00

£45.00

select

S

80 x 40 cm

£50.00

£60.00

select

S

90 x 30 cm

£45.00

£55.00

select

M

90 x 45 cm

£60.00

£74.00

select

M

100 x 50 cm

£65.00

£77.00

select

M

120 x 40 cm

£70.00

£80.00

select

M

120 x 60 cm

£80.00

£96.00

select

L

140 x 70 cm

£90.00

£108.00

select

L

150 x 50 cm

£85.00

£99.00

select

L

150 x 75 cm

£115.00

£133.00

select
Delivery discount on multiple purchases (same size)
.
When will your canvas print be delivered:
TODAYOrder
now

Next Day*
EXPRESSdelivery
guaranteed

PRIO**delivery
expected

STANDARDdelivery
expected

Tue
Wed
Thurs
Fri
Sat
Sun
Mon
Tue
Wed
Thurs
05
Dec.
06
Dec.
07
Dec.
08
Dec.
09
Dec.
10
Dec.
11
Dec.
12
Dec.
13
Dec.
14
Dec.
Order weekdays until 11 a.m.:
* Guaranteed delivery next working day
** Prioritised production and standard delivery
Our delivery companies:

---
Delivered to
| | Size | Next Day EXPRESS Upgrade | PRIO Upgrade | Delivery |
| --- | --- | --- | --- | --- |
| XS | 30 x 20 cm | £69.95 | £5.95 | £22.95 |
| XS | 40 x 30 cm | £69.95 | £5.95 | £22.95 |
| XS | 45 x 30 cm | £69.95 | £5.95 | £22.95 |
| S | 60 x 40 cm | £74.95 | £7.95 | £15.95 |
| S | 60 x 45 cm | £74.95 | £7.95 | £15.95 |
| S | 75 x 50 cm | £74.95 | £7.95 | £15.95 |
| M | 80 x 60 cm | £74.95 | £7.95 | £15.95 |
| M | 90 x 60 cm | £79.95 | £9.95 | £19.95 |
| M | 100 x 75 cm | £79.95 | £9.95 | £19.95 |
| M | 105 x 70 cm | £95.95 | £12.95 | £19.95 |
| L | 120 x 80 cm | £95.95 | £12.95 | £19.95 |
| L | 120 x 90 cm | £95.95 | £12.95 | £19.95 |
Prices incl. VAT.
Delivery discount on multiple purchases (same size)
All delivery prices and times
---
---
You may also like