Panoramic Canvas Prints
Panoramic canvas prints have a format that goes beyond all dimensions. They inspire by their sheer size and, depending on the motif, through the mediated sense of the vastness of the space. Static images are particularly well-suited to panoramic canvas prints. Panoramic canvas prints can also be cut from a regular photo. But the overlapping of several photos can also lead to very impressive results with this photo on canvas.
Did you know? We provide a colour warranty for our canvas photo prints.
---


---
---
Panoramic Formats
We offer the panoramic canvas in two ratios. The 2:1 panoramic format can also be described as the small panoramic format. If you want to have an ultra panoramic print you should go for the 3:1 panoramic.
In general, long canvas photo prints are the most attractive formats, since it is often hung above the sofa or the bed. For this, the panoramic format is perfect - it picks up on the horizontal forms and position, blends harmoniously into the setting and embellishes the room.
---
Edge Design for Panoramic Canvas Prints
The design of the sides for a panorama canvas print is not as challenging as you might think. There are 4 different side options available. If you go for wrapped edges, you may "lose" a part of your image is this part will be wrapped around the wooden frame. In our preview mode you can see how much of your photo will be used for the sides.
An alternative is the mirrored edge option as the entire motif is preserved and a part of your photo will simply be mirrored and then wrapped.
If you want to have your panoramic canvas printed in black & white, a monochrome edge will look fantastic. This means that your selected motif will not be compromised and the printed edge will match your panoramic canvas perfectly.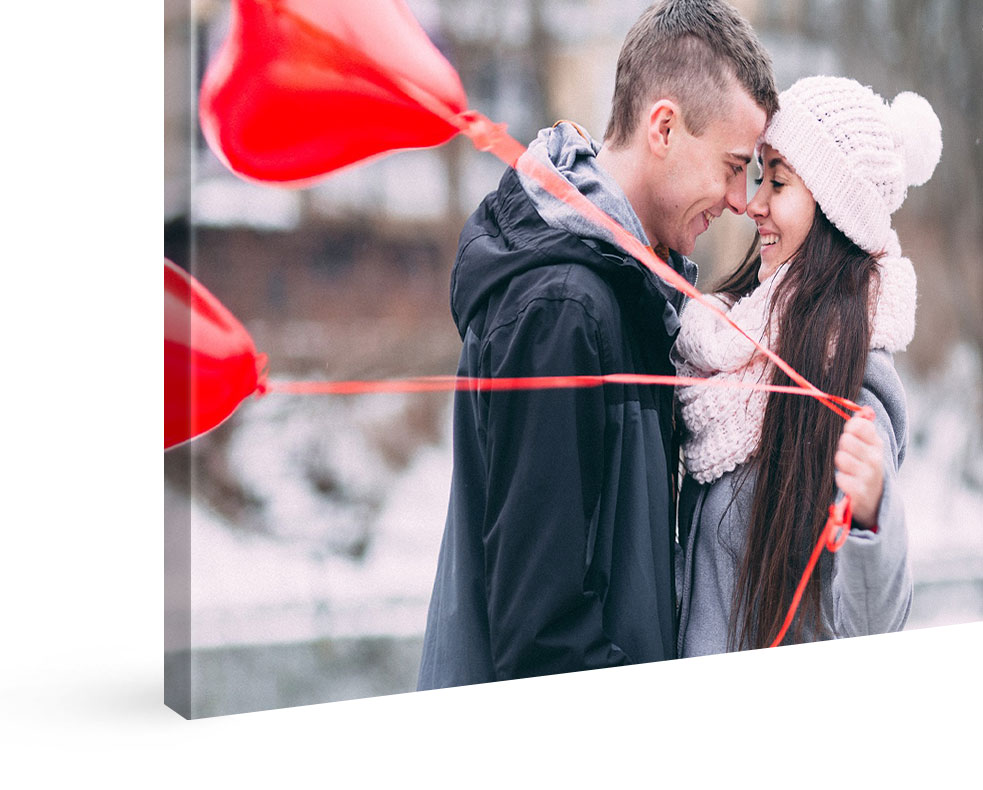 Wrapped
Black
White
Mirrored
---
Tip: For a long panoramic photo canvas, we recommend the gallery-format wooden frames from a width of 100 cm.
---
2 cm Standard
Stretcher frame
FREE


4 cm Gallery
Stretcher frame
5 GBP


---
Further information
Panorama print info
Prices
Delivery times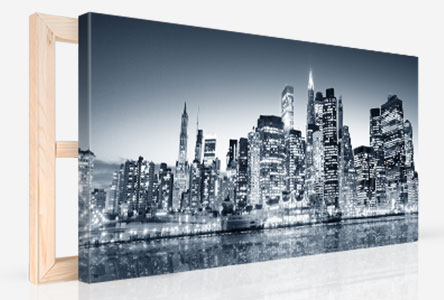 Panoramic print information
Choose from 12 panoramic formats
In aspect ratios of 2:1 and 3:1
Finished canvas stretched over frame
---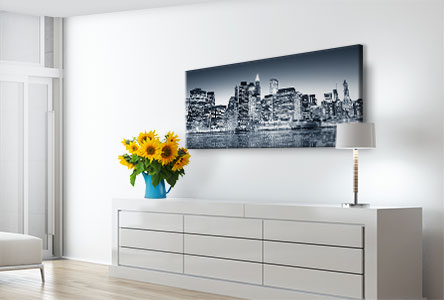 Detailed information
Choose from 12 panoramic print sizes in aspect ratio of 2:1 and 3:1 ultra-wide format
Panoramic formats also available in extra large sizes – up to max. 100 x 50 in 250 x 125 cm
Printed on real artist's canvas made from 360 g/m² cotton
Stretched onto a real wooden frame + 8 tensioning wedges also included
Printed with the latest HEWLETT PACKARD© (HP – True Color Technology) directly onto canvas
Environmentally friendly: Produced using more than 99% renewable raw materials
Your canvas is available in the following thickness: 2 cm / 4 cm
Panoramic
Size
RRP
Price
Choose size

XS

40 x 20 cm

£25.00

£35.00

select

S

60 x 20 cm

£30.00

£40.00

select

S

60 x 30 cm

£35.00

£45.00

select

S

80 x 40 cm

£50.00

£60.00

select

S

90 x 30 cm

£45.00

£55.00

select

M

90 x 45 cm

£60.00

£74.00

select

M

100 x 50 cm

£65.00

£77.00

select

M

120 x 40 cm

£70.00

£80.00

select

M

120 x 60 cm

£80.00

£96.00

select

L

140 x 70 cm

£90.00

£108.00

select

L

150 x 50 cm

£85.00

£99.00

select

L

150 x 75 cm

£115.00

£133.00

select
Delivery discount on multiple purchases (same size)
.
When will your canvas print be delivered:
TODAYOrder
now

Next Day*
EXPRESSdelivery
guaranteed

PRIO**delivery
expected

STANDARDdelivery
expected

Thurs
Fri
Sat
Sun
Mon
Tue
Wed
Thurs
Fri
Sat
21
Jan.
22
Jan.
23
Jan.
24
Jan.
25
Jan.
26
Jan.
27
Jan.
28
Jan.
29
Jan.
30
Jan.
Order weekdays until 11 a.m.:
* Guaranteed delivery next working day
** Prioritised production and standard delivery
Our delivery companies:


---
Delivered to
| | Size | Next Day EXPRESS Upgrade | PRIO Upgrade | Delivery |
| --- | --- | --- | --- | --- |
| XS | 20 x 20 cm | £69.95 | £5.95 | £22.95 |
| XS | 30 x 20 cm | £69.95 | £5.95 | £22.95 |
| XS | 30 x 30 cm | £69.95 | £5.95 | £22.95 |
| XS | 40 x 30 cm | £69.95 | £5.95 | £22.95 |
| XS | 40 x 40 cm | £69.95 | £5.95 | £22.95 |
| S | 50 x 50 cm | £74.95 | £7.95 | £25.95 |
| S | 60 x 40 cm | £74.95 | £7.95 | £25.95 |
| S | 70 x 50 cm | £74.95 | £7.95 | £25.95 |
| M | 80 x 60 cm | £74.95 | £7.95 | £25.95 |
| M | 90 x 60 cm | £79.95 | £9.95 | £29.95 |
| L | 120 x 80 cm | £95.95 | £12.95 | £29.95 |
| XL | 150 x 100 cm | - | £12.95 | £39.95 |
Prices incl. VAT.
Delivery discount on multiple purchases (same size)
All delivery prices and times
---
---
You may also like