1. Upload photo

2. Choose a size

3. Order canvas print

---
Popular custom sizes
Custom
Size
RRP
Price
Choose size

XS

50 x 30 cm

£35.00

£43.00

select

Canvas print 50 x 30 cm on wooden frame - details

Model
50 x 30 cm
0.8 in / 1.6 in (2 cm / 4 cm)
Cotton 360 g/m²

0,15 m²

Requirements
Custom size
750 x 450 Pixel
0,34 Megapixel
72 DPI
JPG, PNG in RGB


XS

50 x 40 cm

£40.00

£50.00

select

Canvas print 50 x 40 cm on wooden frame - details

Model
50 x 40 cm
0.8 in / 1.6 in (2 cm / 4 cm)
Cotton 360 g/m²

0,20 m²

Requirements
Rectangle (5:4)
700 x 560 Pixel
0,39 Megapixel
72 DPI
JPG, PNG in RGB


S

60 x 50 cm

£50.00

£62.00

select

Canvas print 60 x 50 cm on wooden frame - details

Model
60 x 50 cm
0.8 in / 1.6 in (2 cm / 4 cm)
Cotton 360 g/m²

0,30 m²

Requirements
Custom size
750 x 623 Pixel
0,47 Megapixel
72 DPI
JPG, PNG in RGB


S

70 x 40 cm

£45.00

£53.00

select

Canvas print 70 x 40 cm on wooden frame - details

Model
70 x 40 cm
0.8 in / 1.6 in (2 cm / 4 cm)
Cotton 360 g/m²

0,28 m²

Requirements
Custom size
875 x 499 Pixel
0,44 Megapixel
72 DPI
JPG, PNG in RGB


S

70 x 50 cm

£50.00

£63.00

select

Canvas print 70 x 50 cm on wooden frame - details

Model
70 x 50 cm
0.8 in / 1.6 in (2 cm / 4 cm)
Cotton 360 g/m²

0,35 m²

Requirements
Custom size
875 x 630 Pixel
0,55 Megapixel
72 DPI
JPG, PNG in RGB


M

75 x 60 cm

£60.00

£70.00

select

Canvas print 75 x 60 cm on wooden frame - details

Model
75 x 60 cm
0.8 in / 1.6 in (2 cm / 4 cm)
Cotton 360 g/m²

0,45 m²

Requirements
Rectangle (5:4)
1000 x 800 Pixel
0,80 Megapixel
72 DPI
JPG, PNG in RGB


M

90 x 50 cm

£65.00

£76.00

select

Canvas print 90 x 50 cm on wooden frame - details

Model
90 x 50 cm
0.8 in / 1.6 in (2 cm / 4 cm)
Cotton 360 g/m²

0,45 m²

Requirements
Custom size
1125 x 630 Pixel
0,71 Megapixel
72 DPI
JPG, PNG in RGB


M

100 x 60 cm

£70.00

£83.00

select

Canvas print 100 x 60 cm on wooden frame - details

Model
100 x 60 cm
0.8 in / 1.6 in (2 cm / 4 cm)
Cotton 360 g/m²
Cross bracing
0,60 m²

Requirements
Custom size
1250 x 750 Pixel
0,94 Megapixel
72 DPI
JPG, PNG in RGB


M

100 x 80 cm

£85.00

£100.00

select

Canvas print 100 x 80 cm on wooden frame - details

Model
100 x 80 cm
0.8 in / 1.6 in (2 cm / 4 cm)
Cotton 360 g/m²
Cross bracing
0,80 m²

Requirements
Rectangle (5:4)
1250 x 1000 Pixel
1,25 Megapixel
72 DPI
JPG, PNG in RGB

Delivery discount available on multiple purchases (same size).
All sizes and prices
Prices incl. VAT.
---
Print photo canvasses in custom sizes
You can't find the right size for your photo canvas in our size charts? In addition to the 153 formats for photo printing, we also offer you the option of creating a canvas in a customised format. This provides you with the opportunity to print your favourite motif in special format on canvas and to make the perfect selection based on occasion or decor. This way, you'll have the ideal canvas size for every motif.
What custom formats are available?
In principle, special requests for photo prints are possible in all orientations and many aspect ratios: portrait or landscape, panorama, XXL panorama or in the square look. Even round formats are theoretically possible. You'll find especially large sizes on our page under XXL canvasses.
Popular formats:
Classic 3:2 format
Digital photo format 4:3
Square photo canvasses
Panorama canvas (side ratio 2:1 and 3:1)
XXL formats
Photo collages
Multi-part images
Ordering custom-sized canvasses
What's the easiest way to print my own individual canvas print? Quite easily via our customer service. Simply send an email with information on your desired custom format to our contact address and we'll get in touch without delay. Please include the required width and height in round centimetres. Unfortunately it is not possible to make canvases down to the millimetre. The maximum width for custom canvas production is 140 cm. The maximum length is 300 cm. For round custom designs we need to know the diameter of the desired image.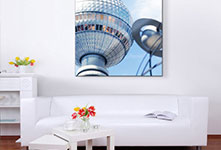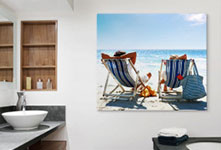 Custom canvasses according to DIN norms and frame formats
Typical special sizes for canvases are standardised DIN sizes. These are often used for events and promotional purposes, especially in the commercial sector. We can produce these DIN-similar special canvas sizes for you:
| DIN format | DIN size in mm (height x width) | Canvas in cm (height x width) |
| --- | --- | --- |
| A0 | 1189 x 841 mm | 120 x 85 cm |
| A1 | 841 x 594mm | 85 x 60 cm |
| A2 | 594 x 420 mm | 60 x 40 cm |
| A3 | 420 x 297 mm | 45 x 30 cm |
| A4 | 297 x 210 mm | 30 x 20 cm |
| A5 | 210 x 148 mm | 20 x 20 cm |
| A6 | 148 x 105 mm | – |
| A7 | 105 x 74 mm | – |
| A8 | 74 x 52 mm | – |
Picture frame formats are also standardised sizes. There are 38 of these, and they conform to the known DIN dimensions. We can supply for many standard frame sizes using rounded canvas sizes, for example 30 x 45 cm, 50 x 65 cm or 60 x 60 cm.
Special price for special formats on canvas
The price of the canvas varies according to the size of the custom canvas. Our size-price calculator above will help you determine the price for your own personal canvas format. If your size is not listed in the calculator, you can always send us your request for a custom size. After all, it's not always the case that your picture fits a standard canvas. We'll reply to your inquiry with a non-binding offer, no matter whether it's for a giant panorama or a custom canvas in life-size with a photo of a member of your family.
An extended delivery period is possible
The customised manufacture of a photo on canvas can lead to some modifications in the delivery schedule. After all, we personally take delivery of your photo and fit it to your own specially selected format. It might take a little longer than usual before you have your individually customised canvas in your hands. We'll make every effort to adjust the printing process quickly and effectively to the unique size, and even the frame will be made extra for your custom canvas.