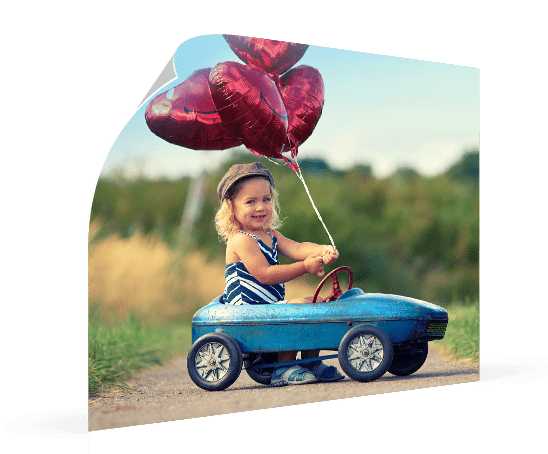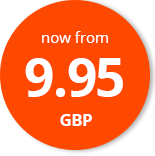 Fuji® premium paper
FREE shipping
Delivered within 48 hours
Ready for dispatch:
Tuesday, 5 Dec 2023

Photo poster in 3 steps
1. Upload photo

2. Choose a size

3. Order poster

---
Customer reviews
Allan
Review in BARKING
Product: Photo poster Verified purchase
Fantastic service and a very good price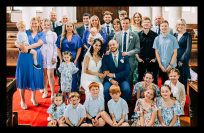 Steve B.
Review in United Kingdom
Product: Photo poster Verified purchase
The photos themselves are great. The delivery experience was awful because I was giving no choice as to when to receive them. I found a way of calling UPS and tried to change a delivery date as was out of the country. Their adviser said they had changed it to a new date but when I returned UPS had just left all the artwork outside my house!! Thankfully it hadn't rained (and they hadn't been stolen) but I'm not at all happy about that. I've complained to UPS but I think you guys need to make a way where people can alter delivery dates more easily, ideally at the start of the process.

---
Stephen
Review in Northchurch
Product: Photo poster Verified purchase
I was really impressed with the quality of the enlargement we received. At 100cm x 100cm I was concerned it the quality might have been degraded but it was absolutely fantastic.

Jerry S.
Review in Ware
Product: Photo poster Verified purchase
Thanks Guys! Excellent canvas print - exactly what we needed and the colours are spot-on too!

---
---
---
Further information
Poster info
Prices
Delivery times
Poster information
FujiColor® premium poster paper
HDR®Colour System EPSON® UltraChrome®
UP to 200 years' fade resistance
---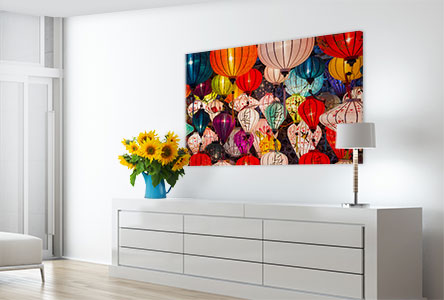 Detailed information
Poster on Fuji© photo paper with Luminax technology for brilliant colour reproduction
Semi-gloss (270 g/m² paper) or high-gloss (240 g/m²) finish
Printed directly onto professional photo paper with modern EPSON© UltraChrome© 11 colour technology
Fade resistance of up to 200 years out of direct sunlight
Available in many sizes incl. XXL sizes up to 80 in (2 metres)
Your photo poster is available in the following finishes: high-gloss / semi-gloss
Size
RRP
Price
Choose size

XS

30 x 20 cm

£9.95

£9.95

select

XS

30 x 30 cm

£12.95

£12.95

select

XS

40 x 30 cm

£13.95

£13.95

select

XS

40 x 40 cm

£16.95

£16.95

select

S

50 x 50 cm

£22.95

£22.95

select

S

60 x 40 cm

£19.95

£19.95

select

S

70 x 50 cm

£29.95

£29.95

select

M

80 x 60 cm

£42.95

£34.95

£34.95

select

M

90 x 60 cm

£55.95

£38.95

£38.95

select

L

120 x 80 cm

£72.95

£72.95

select

XL

150 x 100 cm

£97.95

£97.95

select
Delivery discount available on multiple purchases (same size).
Prices incl. VAT.
When will your Poster print be delivered?
Choose a size
Deliverd to
TODAYOrder
now

Next Day*
EXPRESSdelivery
guaranteed

PRIO**delivery
expected

STANDARDdelivery
expected

Tue
Wed
Thurs
Fri
Sat
Sun
Mon
Tue
Wed
Thurs
05
Dec.
06
Dec.
07
Dec.
08
Dec.
09
Dec.
10
Dec.
11
Dec.
12
Dec.
13
Dec.
14
Dec.
Order weekdays until 11 a.m.:
* Guaranteed delivery next working day
** Prioritised production and standard delivery
Our delivery companies:

---
Delivered to
| | Size | Next Day EXPRESS Upgrade | PRIO Upgrade | Delivery |
| --- | --- | --- | --- | --- |
| | All | - | - | £19.95 |
Prices incl. VAT.
Delivery discount available on multiple purchases (same size).
All prices and delivery times
---
---
Photo posters – a classic in wall decoration
Posters are very versatile. They can be used for advertising purposes and made with text as information posters for trade fairs, or can be used as a quick and easy option for livening up bare walls. Their advantage is always their low cost, easy installation and bright, colourful photographic result.
Choice of motif for bright photo poster printing
When you don't want to have to rely on ready-made posters in online shops and handicraft stores, you can very easily design and print your own photo poster online. As well as close-ups or macro shots of plants, animals and objects, landscape photos of your surroundings, idyllic holiday shots and family portraits are all ideal for individualising your own four walls.
Matte or glossy - a question of style
Having chosen your motif, the next question arises – one that we know from the days of photo print-outs: Do you want to order your photo poster in a matte or high-gloss finish? This is really a question of personal preference, but there are indeed advantages and disadvantages to both matte and high-gloss poster finishes. Here's a brief list for you:
| | Matte | Gloss |
| --- | --- | --- |
| Advantages | looks very classy | bright and colour-intensive |
| | surface less vulnerable | sharp edges, precise representation |
| Disadvantages | Less brilliant colours | Reflections possible |
| | More finicky in digital printing | Susceptible to marks/fingerprints |
Matte photo posters have a somewhat more elegant look and are very suited to still life, wedding or black & white photography, whereas gloss paper is ideal for holiday and summer shots with bright colours, thanks to its particular characteristics. Regardless of which photo paper variant you choose, you always receive a premium photo product, since we work with quality photo paper from Fuji® for our posters.
Vertical or perpendicular, landscape or portrait - photo formats for photo poster printing
In specialist shops, most posters are in vertical or portrait format but of course you can also have your own photo motif printed horizontally in landscape format. In addition to the standard vertical sizes, we offer photo posters, for example, also in square format or in 2:1 ratio. Panoramas in particular can be rendered thus in a unique way to individually embellish your living spaces.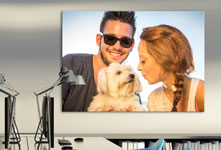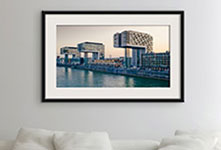 Delivery
The delivery of photo posters is easy and uncomplicated. Since the freshly printed posters can be simply rolled up, we can send them in a sturdy transport tube. The dispatch from the photo lab to your door takes only a few days. Your new photo print is thus delivered to you smooth and wrinkle-free.
Hang a photo poster on your wall in seconds
Photo posters are light and at the same time tear-resistant. If you do not want to refine your poster by putting it straight into a frame to hang it up, you can use one of the following methods.
PowerStrips are rubber-like, two-sided adhesive strips that can be stuck directly on to the back of the poster. Advantage: When you leave a little of the plastic film on the sticky tape, you can later remove the photo poster easily by pulling sideways on the strip. The strips are very durable, even on woodchip wallpaper.
Double-sided sticky tape works just like the elevated PowerStrips version. The sticky tape is applied to the back of the poster in the corners, the middle and the edges, and is attached to the wall by smoothing it down.
Pins like the ones in granny's pincushion can be used in the four corners of the photo poster to pin it to the wallpaper. Disadvantage: You need wallpaper as a background and you may see traces of the needles in it when you eventually remove the poster.
Thumbtacks can be used much like pins in the corners of the photo poster and are pressed into the wall. This method doesn't necessarily require wallpaper but the heads of the tacks are more obvious.
---
You may also like: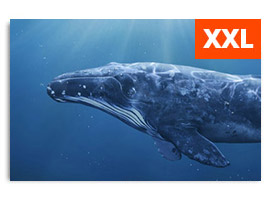 ---
XXL Canvas Print
From £19
Go to Large Canvas Print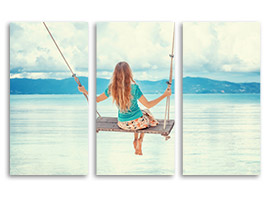 ---
Split Canvas
From £38
Go to Multi Canvas Prints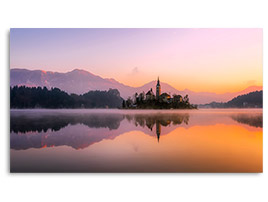 ---
Panorama Canvas
From £25
Go to Panorama Canvas Prints