1. Upload photo

2. Choose a size

3. Order canvas print

---
Canvas printing
Before the trend for photos on canvas, photos were generally just framed in wooden frames. Canvas prints of photos are different – these include the frame. Canvas printing, which is carried out using a direct printing technique, produces prints which are then stretched over a wooden frame after printing. The canvas prints are then pulled around the frame and fastened to the frame at the back. Having your own canvas prints from photos is very easy: Pick out your favourite photo from your hard drive. Upload the photo for printing on to canvas. Then choose the size of your canvas prints. In just a few days, your photo on canvas will be printed and delivered to you at home.
Did you know? Your canvas prints are manufactured using modern direct printing methods.
---
---
---
Canvas prints of photos
We offer canvas prints of photos in numerous sizes. The smallest canvas has the format 20 x 20 cm. The largest photo on canvas in the standard range is 240 x 120 cm. Generally speaking, just about any photo file these days from a modern camera or mobile phone is suitable for canvas printing. Of course: The higher the resolution, the better the picture quality of the canvas prints.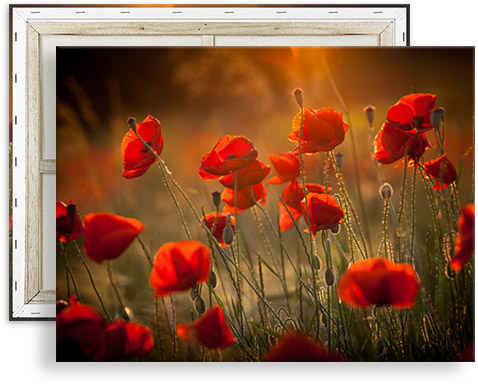 Product view
Detail view
In the room
---
Canvas photo prints
Today it no longer matters which camera was used to take the photos. Even smartphones photograph with such good resolution that the images make excellent canvas prints. More important for the quality of the resulting canvas prints are optimal sharpness and true-to-life colours. If the photo doesn't have sufficient resolution, this will be recognised by the automatic quality inspection during the upload. If the photo is not suitable, it won't go for printing.
---
2 cm Standard
Stretcher frame
FREE

4 cm Gallery
Stretcher frame
from £5

---
Canvas pictures prints
First and foremost, the uploaded photo will be decisive for the ideal canvas printing size – after all, you choose the photo for its motif. However, photo-on-canvas.co.uk offers the option of changing the photo format during the ordering process. This means you can also have a panoramic canvas print from an impressive holiday shot. The square canvas pictures format also provides interesting design possibilities. For example: Three square canvasses as a multi-panel photo canvas series look very impressive above a sofa.
---
Print your own canvas
Hanging canvas prints is as easy as you would imagine. You need nothing more than a hammer and nail, since canvas prints are not very heavy. A small nail of 30 mm in length is enough to securely attach a frame securely on to the wall. For larger canvas prints (of more than 1 metre in width), we recommend using two nails. You should align these with a spirit level to make sure that the canvas print hangs really straight.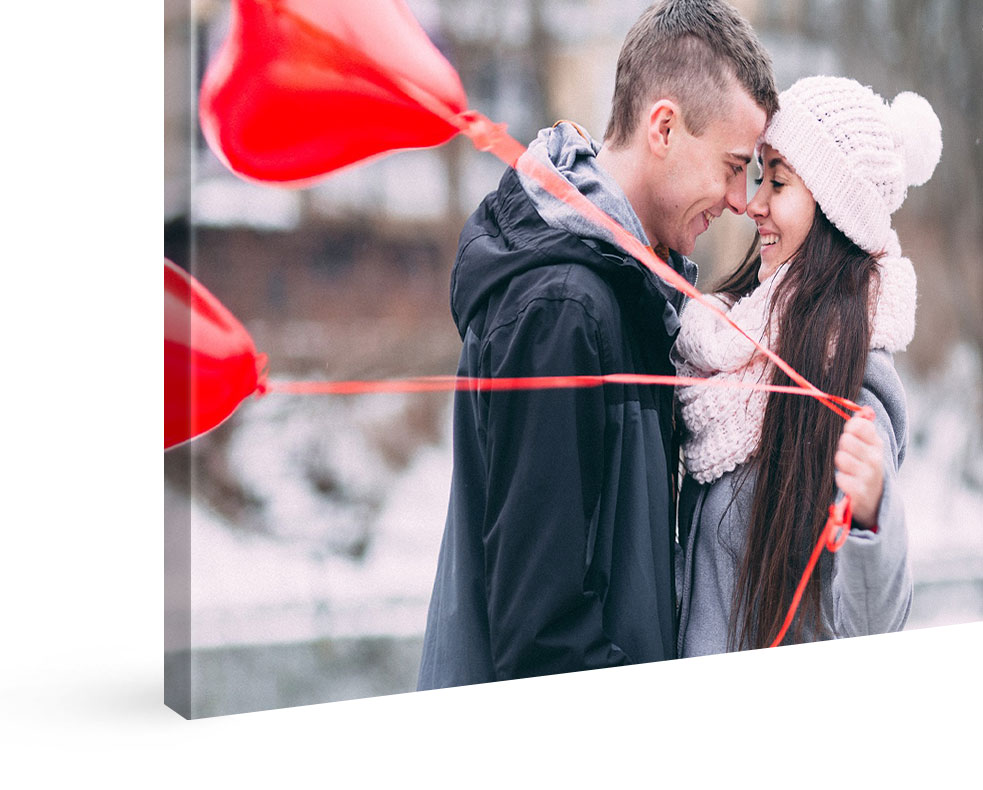 Printed
Black
White
Mirrored
Did you know? We use only original artist canvas for printing. This is made of 100% genuine cotton.
---
Further information
Canvas print info
Prices
Delivery times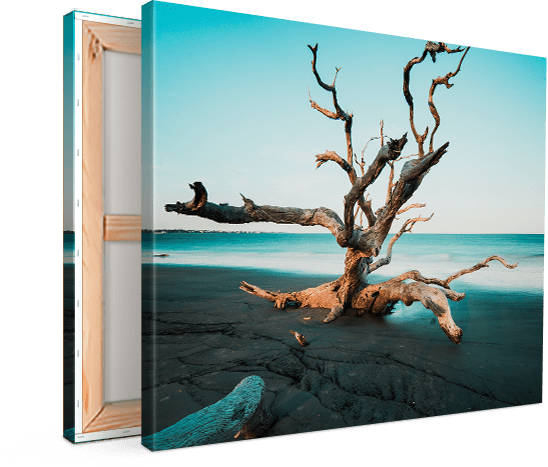 Canvas information
Real canvas made from 100% cotton
Fastened onto wooden frame
Modern HP© printing technology
75 year colour guarantee
Made in Germany
---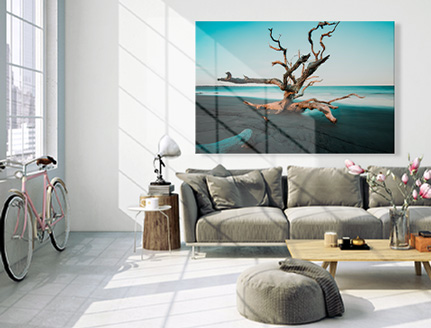 Detailed information
Original artist canvas made from 360 g/m² cotton with a smooth linen structure
Fastened onto wooden frame + 8 tensioning wedges incl.
Modern canvas printing technology with HEWLETT PACKARD© (HP – True Colour Technology)
Choice of frame: standard 0.8 in (2 cm) or gallery 1.6 in (4 cm)
Express or Next Day delivery available
Environmentally friendly: produced from over 99% sustainable raw materials
Your canvas is available in the following thickness: 0.8 in (2 cm) / 1.6 in (4 cm)
Size
RRP
Price
Choose size

XS

20 x 20 cm

£30.00

£19.00

£30.00

select

XS

30 x 20 cm

£20.00

£25.00

select

XS

30 x 30 cm

£25.00

£35.00

select

XS

40 x 30 cm

£69.00

£30.00

£40.00

select

XS

40 x 40 cm

£30.00

£40.00

select

S

50 x 50 cm

£45.00

£55.00

select

S

60 x 40 cm

£45.00

£55.00

select

S

70 x 50 cm

£50.00

£63.00

select

M

80 x 60 cm

£99.00

£65.00

£75.00

select

M

90 x 60 cm

£99.00

£70.00

£90.00

select

L

120 x 80 cm

£100.00

£115.00

select

XL

150 x 100 cm

£150.00

£170.00

select
Delivery discount on multiple purchases (same size)
All prices incl. VAT.
When will your canvas print be delivered:
TODAYOrder
now

Next Day*deliveryguaranteed

EXPRESSdeliveryexpected

STANDARDdeliveryexpected

Thurs
Fri
Sat
Sun
Mon
Tue
Wed
Thurs
Fri
Sat
23
May.
24
May.
25
May.
26
May.
27
May.
28
May.
29
May.
30
May.
31
May.
01
Jun.
* Next Day delivery only available if ordered before midday
Our delivery companies:

---
Delivered to
| | Size | Next Day Upgrade | Express Upgrade | Delivery |
| --- | --- | --- | --- | --- |
| XS | 20 x 20 cm | £89.95 | £5.95 | £12.95 |
| XS | 30 x 20 cm | £89.95 | £5.95 | £12.95 |
| XS | 30 x 30 cm | £89.95 | £5.95 | £12.95 |
| XS | 40 x 30 cm | £89.95 | £5.95 | £12.95 |
| XS | 40 x 40 cm | £89.95 | £5.95 | £12.95 |
| S | 50 x 50 cm | £89.95 | £7.95 | £15.95 |
| S | 60 x 40 cm | £89.95 | £7.95 | £15.95 |
| S | 70 x 50 cm | £89.95 | £7.95 | £15.95 |
| M | 80 x 60 cm | £89.95 | £7.95 | £15.95 |
| M | 90 x 60 cm | £139.95 | £9.95 | £19.95 |
| L | 120 x 80 cm | £139.95 | £12.95 | £19.95 |
| XL | 150 x 100 cm | - | £12.95 | £29.95 |
Prices incl. VAT.
Delivery discount on multiple purchases (same size)
All delivery prices and times
---
---
This might also interest you