1. Upload photo

2. Choose a size

3. Order canvas print

---
Your personalised Canvas Print
We print your photo on canvas in bright colours using the latest technology. Your canvas is then mounted on a genuine wooden stretcher frame in our factory. As canvas experts, we offer the largest selection on the market of over 150 sizes - up to the large canvas print in 210x140 cm format. You can order your photo canvas on a 2 cm standard frame or on a 4 cm gallery frame. We deliver our award-winning photo canvas for £19 already - with 24-hour service on request.
Your canvas comes with a 200-year guarantee on its vibrant colours. So you can enjoy your XXL canvas for a long time. And we deliver your canvas in excellent quality, surprisingly fast and securely packed. Our customers are so enthusiastic about this quality that 97% of them give us a GOOD or VERY GOOD rating.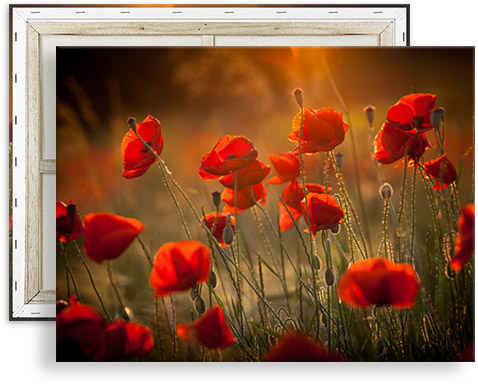 Product view
Detail view
In the room
---
Canvas Print FAQs
What's the optimal resolution needed for a custom canvas photo print?

Thankfully, printing a photo on canvas doesn't require a high resolution image file. A photo took with your phone can easily be printed on canvas up to 200x140 cm.

Our canvas print resolution guide will help you find the perfect printing size for your photo. Just test your file and see the possible formats and sizes.

How big can my photo be printed on canvas?

Our standard canvas sizes go up to 210 x 140 cm. The smallest canvas photo size is 20x20 cm. In addition we also offer custom-sized canvas prints. Just get in touch with us.

How much is a canvas print?

The smallest size is available for £19. Generally, the price depends on the size and frame thickness

Some examples:

| Size | 20x20 cm | 40x30 cm | 60x40 cm | 90x60 cm | 100x75 cm | 120x80 cm |
| --- | --- | --- | --- | --- | --- | --- |
| Price 2cm wooden frame | £19 | £30 | £45 | £70 | £85 | £100 |
| Price 4cm wooden frame | £30 | £40 | £55 | £90 | £100 | £115 |

See all photo canvas prices

How long does delivery take?

The delivery time for our canvas prints usually takes 2-3 working days. If you urgently need your print you can choose our canvas next day delivery service.

How to hang my canvas print?

Hanging a canvas print is pretty easy. For small sizes up to 90x60 cm you just need a nail. For XXL canvas sizes we recommend using at least 2 nails. Here you will find a simple step-by-step guide.

Which frame thickness should I choose?

The 2 cm standard wooden frame is as stable as the 4 cm thick gallery frame. But: The gallery frame looks much better. Due to the larger depth the canvas photo will get a stunning 3D effect. Especially for XXL sizes from 100x75 cm and larger the 4 cm frame is a real eye-catcher.
---
---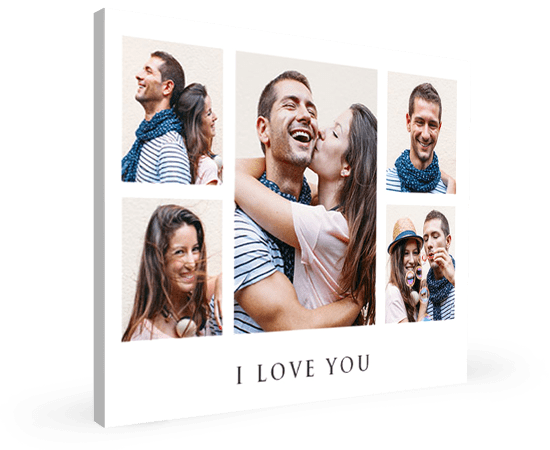 Your favourite photos printed on one canvas: The Photo Collage
Create your photo collage with
up to 100 images. More than 250 free templates available. From £19
---
Ready for dispatch:
Thursday, 11 Aug 2022
---
Collage canvas
Your photo as
split canvas print
Have your photo printed as a multi panel canvas.
Now in 9 creative layouts.
From £38 only.
---
Ready for dispatch:
Thursday, 11 Aug 2022
---
Create split canvas print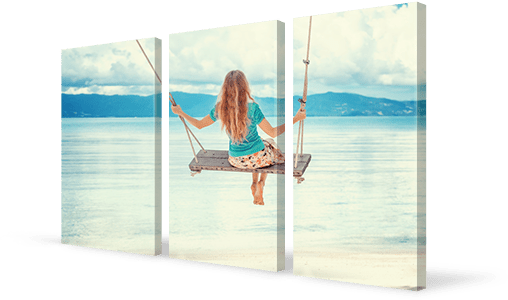 ---
Tip: The JPEG file format is perfect for transferring the images for your canvas print.
---
---
The panoramic photo canvas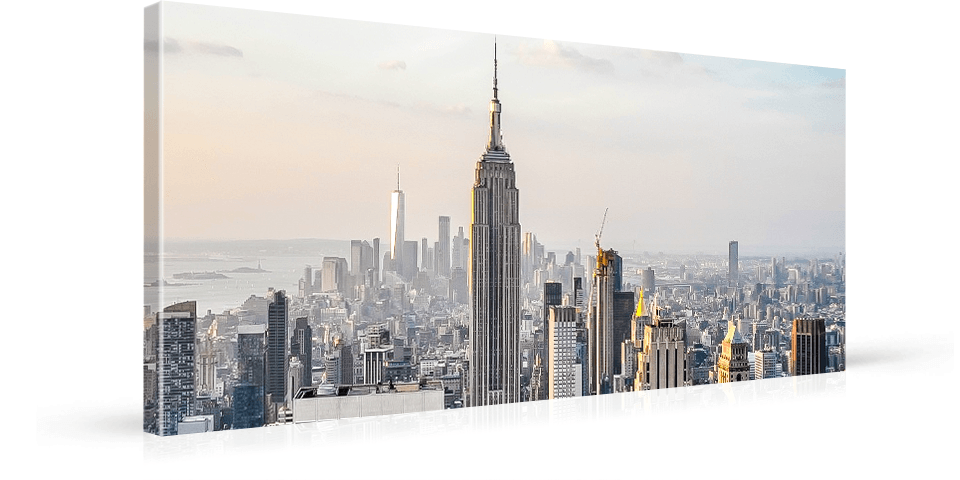 The panoramic canvas photo is a spectacular design object.
We print your canvas in panoramic sizes up to 240 x 120 cm. From £25.
---
---
Customer reviews
Cath
Review in Annan
Product: Canvas print Verified purchase
Really straightforward to order, delivered promptly and looks great on the wall.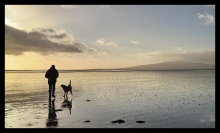 Laura White H.
Review in DUDLEY
Product: Canvas print Verified purchase
Excellent I am so pleased

---
Deirdre
Review in Stroud
Product: Canvas print Verified purchase
Have used this company 3 times now. The order process is very straightforward, delivery very speedy and the quality of the prints is second to none ! Will never use another company again !

Ryan K.
Review in München
Product: Canvas print Verified purchase
The quality of the print was even better than I could have hoped for. Really proves that the online quality calculator works when sizing pictures. When I purchased the canvases it said they would be delivered in a weeks time. Instead, they were prepared and began shipping the next day. Great quality, great prep/shipping time, definitely recommending to friends and family.

---
---
---
Facts about our Canvas Prints
Canvas print info
Prices
Delivery times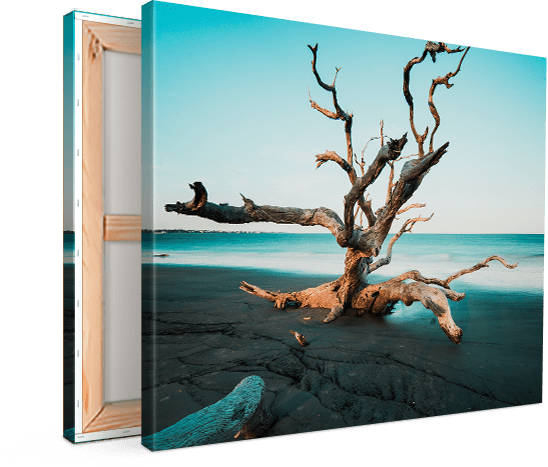 Canvas information
Real canvas made from 100% cotton
Fastened onto wooden frame
Modern HP© printing technology
75 year colour guarantee
---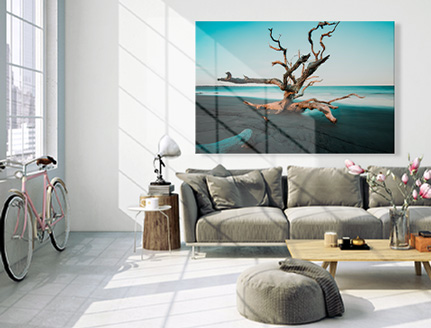 Detailed information
Original artist canvas made from 360 g/m² cotton with a smooth linen structure
Fastened onto wooden frame + 8 tensioning wedges incl.
Modern canvas printing technology with HEWLETT PACKARD© (HP - True Colour Technology)
Choice of frame: standard 2 cm or gallery 4 cm
Next Day Express delivery or PRIO production service available
Environmentally friendly: produced from over 99% sustainable raw materials
Your canvas is available in the following thickness: 2 cm / 4 cm
Size
RRP
Price
Choose size

XS

20 x 20 cm

£30.00

£19.00

£30.00

select

XS

30 x 20 cm

£20.00

£25.00

select

XS

30 x 30 cm

£25.00

£35.00

select

XS

40 x 30 cm

£69.00

£30.00

£40.00

select

XS

40 x 40 cm

£30.00

£40.00

select

S

50 x 50 cm

£45.00

£55.00

select

S

60 x 40 cm

£45.00

£55.00

select

S

70 x 50 cm

£50.00

£63.00

select

M

80 x 60 cm

£99.00

£65.00

£75.00

select

M

90 x 60 cm

£99.00

£70.00

£90.00

select

L

120 x 80 cm

£100.00

£115.00

select

XL

150 x 100 cm

£150.00

£170.00

select
Delivery discount on multiple purchases (same size)
.
When will your canvas print be delivered:
TODAYOrder
now

Next Day*
EXPRESSdelivery
guaranteed

PRIO**delivery
expected

STANDARDdelivery
expected

Thurs
Fri
Sat
Sun
Mon
Tue
Wed
Thurs
Fri
Sat
11
Aug.
12
Aug.
13
Aug.
14
Aug.
15
Aug.
16
Aug.
17
Aug.
18
Aug.
19
Aug.
20
Aug.
Order weekdays until 11 a.m.:
* Guaranteed delivery next working day
** Prioritised production and standard delivery
Our delivery companies:

---
Delivered to
| | Size | Next Day EXPRESS Upgrade | PRIO Upgrade | Delivery |
| --- | --- | --- | --- | --- |
| XS | 30 x 20 cm | £69.95 | £5.95 | £22.95 |
| XS | 40 x 30 cm | £69.95 | £5.95 | £22.95 |
| XS | 45 x 30 cm | £69.95 | £5.95 | £22.95 |
| S | 60 x 40 cm | £74.95 | £7.95 | £15.95 |
| S | 60 x 45 cm | £74.95 | £7.95 | £15.95 |
| S | 75 x 50 cm | £74.95 | £7.95 | £15.95 |
| M | 80 x 60 cm | £74.95 | £7.95 | £15.95 |
| M | 90 x 60 cm | £79.95 | £9.95 | £19.95 |
| M | 100 x 75 cm | £79.95 | £9.95 | £19.95 |
| M | 105 x 70 cm | £95.95 | £12.95 | £19.95 |
| L | 120 x 80 cm | £95.95 | £12.95 | £19.95 |
| L | 120 x 90 cm | £95.95 | £12.95 | £19.95 |
Prices incl. VAT.
Delivery discount on multiple purchases (same size)
All delivery prices and times
---
---
You may also like