1. Upload
main image

2. Upload
individual photos

3. Create
photo mosaic

---
Photo mosaic printed on canvas
The photo mosaic on canvas is a piece of wall art that is composed of one main image and many tiny photos. The mosaic canvas allows the photos from your holiday, a wedding or your whole life to be integrated into one large picture. The photo mosaic canvas is always popular because of the huge number of pictures that can be included in your canvas printing. A quick look and you'll notice only the main image; then look closer and you'll see the many tiny photos that make up this fascinating picture. Since there is so much to discover, looking at the mosaic canvas never grows old. Up to 1,000 photos can be used for one mosaic canvas. This is considerably more than can be used for a collage canvas, for example.
Tip: A simple, colourful main image works best for a photo mosaic on canvas
Create a photo mosaic – How it works…
---
Mosaic photo canvas
The photo mosaic canvas is often ordered as a gift. So you should heed the following tips to make sure you have the perfect gift on time for the occasion. You will choose the format and size during the ordering process for your mosaic canvas. After creating your photo mosaic canvas, you will have to decide on the thickness of the stretcher frame you prefer. Here you should know that the 4 cm gallery frame is basically more attractive than the 2 cm standard stretcher frame. For reasons of stability, the 4 cm variant should in any case be chosen for a mosaic canvas of more than 1 metre in length.
Mosaic canvas prints
It will take only a few hours to create your mosaic canvas once you have uploaded the photos. We create the mosaic for you and will send you the results as a preview. If you are happy with the preview, you can have it printed as a mosaic canvas. This generally takes a few days. For particularly urgent orders, we offer an express service. The finished mosaic canvas will then be sent out on the next working day. If you need it even faster, we can recommend our 24 hour service. In this case you're guaranteed to receive your mosaic canvas the very next day.
Tip: Use as many small pictures as possible for your photo mosaic canvas (max. 1,000 pics).
---
Further information
Mosaic information
Prices
Delivery times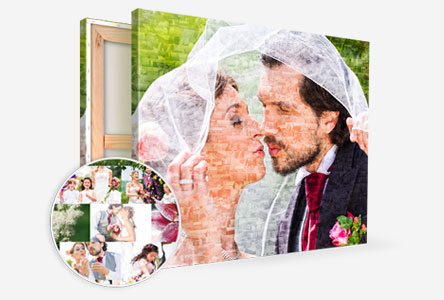 Photo mosaic information
Upload up to 1,000 photos
Individual photos of 2 cm print size
Finished canvas stretched over frame
Highest quality: Made in Germany
---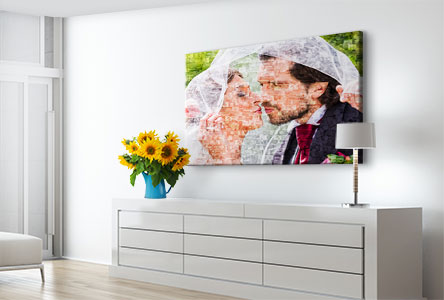 Detailed information
Upload up to 1,000 photos - tiles appear in 2 cm print size
2 different photo mosaic previews created
Printed on 360 g/m² cotton, real artist's canvas
Stretched onto wooden frame + 8 tensioning wedges incl.
Printed with latest HP True Colour Technology©
Environmentally friendly: over 99% renewable materials
Size

Canvas print

Acrylic glass

Alu-Dibond

Poster

S

60 x 30 cm
£59.00
-
-
£17.95

S

60 x 40 cm
£69.00
£79.00
£79.00
£19.95

S

60 x 45 cm
£69.00
£79.00
£69.00
£21.95

S

60 x 60 cm
£69.00
£89.00
£89.00
£27.95

S

80 x 40 cm
£74.00
£89.00
£89.00
£25.95

M

80 x 60 cm
£79.00
£89.00
£89.00
£34.95

M

80 x 80 cm
£89.00
£109.00
£109.00
£50.95

M

90 x 60 cm
£89.00
£99.00
£99.00
£38.95

M

100 x 50 cm
£87.00
-
-
£38.95

M

100 x 75 cm
£109.00
£179.00
£292.00
£51.95

L

100 x 100 cm
£119.00
£139.00
£139.00
£66.95

M

105 x 70 cm
£110.00
£169.00
£287.00
£48.95

M

120 x 60 cm
£103.00
£129.00
£129.00
£49.95

L

120 x 80 cm
£119.00
£149.00
£149.00
£72.95

L

120 x 90 cm
£119.00
£149.00
£149.00
£75.95

L

120 x 120 cm
£139.00
£299.00
£484.00
-

XL

150 x 100 cm
£149.00
£309.00
£501.00
£97.95

XL

160 x 120 cm
£169.00
£389.00
£617.00
-
Delivery discount on multiple purchases (same size)
All prices incl. VAT.
When will your canvas print be delivered:
TODAYOrder
now

Next Day*deliveryguaranteed

EXPRESSdeliveryexpected

STANDARDdeliveryexpected

Sun
Mon
Tue
Wed
Thurs
Fri
Sat
Sun
Mon
Tue
21
Jul.
22
Jul.
23
Jul.
24
Jul.
25
Jul.
26
Jul.
27
Jul.
28
Jul.
29
Jul.
30
Jul.
* Next Day delivery only available if ordered before midday
Our delivery companies:

---
Delivered to
| | Size | Next Day Upgrade | Express Upgrade | Delivery |
| --- | --- | --- | --- | --- |
| XS | 20 x 20 cm | £89.95 | £5.95 | £12.95 |
| XS | 30 x 20 cm | £89.95 | £5.95 | £12.95 |
| XS | 30 x 30 cm | £89.95 | £5.95 | £12.95 |
| XS | 40 x 30 cm | £89.95 | £5.95 | £12.95 |
| XS | 40 x 40 cm | £89.95 | £5.95 | £12.95 |
| S | 50 x 50 cm | £89.95 | £7.95 | £15.95 |
| S | 60 x 40 cm | £89.95 | £7.95 | £15.95 |
| S | 70 x 50 cm | £89.95 | £7.95 | £15.95 |
| M | 80 x 60 cm | £89.95 | £7.95 | £15.95 |
| M | 90 x 60 cm | £139.95 | £9.95 | £19.95 |
| L | 120 x 80 cm | £139.95 | £12.95 | £19.95 |
| XL | 150 x 100 cm | - | £12.95 | £29.95 |
Prices incl. VAT.
Delivery discount on multiple purchases (same size)
All delivery prices and times
---
---
You may also like