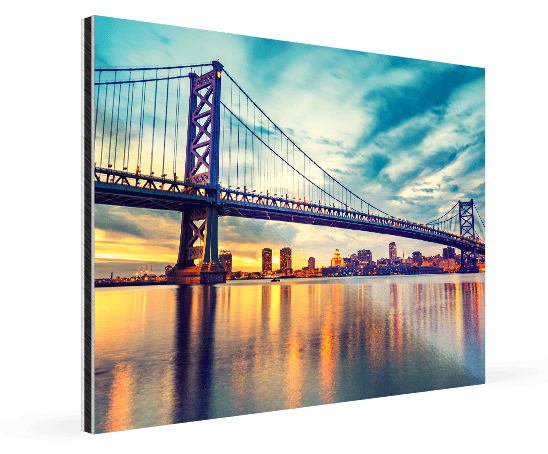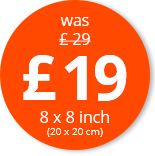 Original 3 mm Alu-Dibond©
Next day delivery
100% FREE shipping
Ready for dispatch:
Wednesday, 29 Jun 2022

Metal print in 3 steps
1. Upload photo

2. Select a size

3. Order metal print

---
Customer reviews
Martin
Review in Biggleswade
Product: Metal print Verified purchase
Good quality print with colours very close to the original. The canvas was slightly creased along the line of central batten, but this disappeared after a couple of days. Could have benefitted from instructions on how to use the wedges to tighten the canvas, but these were found easily with an online search.
Martin
Review in Eastleigh
Product: Metal print Verified purchase
Nice print. It was a photo taken on my phone and looks good scaled to the maximum size.
---
Sheila
Review in Carmarthen
Product: Metal print Verified purchase
Uploading files and ordering was very straightforward, dispatching was also very quick. Delivery took several days to come from Berlin and because we ordered 3 prints it went over the tax free limit so had to pay import tax which I did't expect. Having said that the quality of the printing and frames is exceptional and we are very pleased with them and would order again.
Nick B.
Review in Ashford
Product: Metal print Verified purchase
Fantastic quality, price and delivery, no hidden extra taxes on being shipped to uk. Thank you!
---
---
---
Further information
Alu-Dibond info
Prices
Delivery times
Mountings
Alu-Dibond information
Alu-Dibond from Thyssen Krupp©
Océ – Canon™ print technology
Up to 200 years fade resistance
Semi-gloss or brushed surface finish
---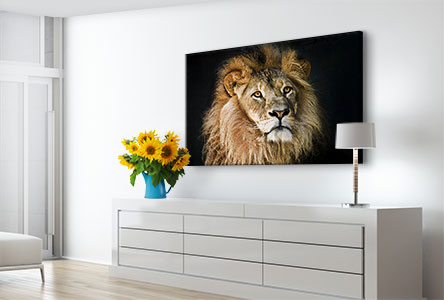 Detailed information
Sturdy Alu-Dibond© compound structure – 2 choices of frame thickness
Choose from 3 mounting systems – incl. "floating" mount
Alu-Dibond© available in a white, semi-gloss and a metallic, brushed surface finish
Printed directly onto Aluminium sheet© using cutting edge Canon™ print technology including white print
Aluminum printing also in XXL sizes up to 2 metres
Your metal print is available in the following finishes: white semi-gloss / metallic brushed surface
Size
RRP
Price
Choose size

XS

20 x 20 cm

£19.00

£19.00

£19.00

select

XS

30 x 20 cm

£25.00

£25.00

select

XS

40 x 30 cm

£39.00

£30.00

£30.00

select

XS

40 x 40 cm

£35.00

£35.00

select

S

60 x 40 cm

£69.00

£45.00

£45.00

select

S

60 x 45 cm

£50.00

£50.00

select

S

60 x 60 cm

£60.00

£60.00

select

M

80 x 60 cm

£79.00

£65.00

£65.00

select

M

80 x 80 cm

£80.00

£80.00

select

M

90 x 60 cm

£70.00

£70.00

select

L

100 x 100 cm

£100.00

£100.00

select

L

120 x 80 cm

£129.00

£95.00

£95.00

select

L

120 x 90 cm

£129.00

£100.00

£100.00

select
Next day delivery only available if ordered before 11 a.m..
Prices incl. VAT.
When will your metal print be delivered?
Choose a size
Delivered to
TODAYOrder
now

Next Day*
EXPRESSdelivery
guaranteed

PRIO**delivery
expected

STANDARDdelivery
expected

Tue
Wed
Thurs
Fri
Sat
Sun
Mon
Tue
Wed
Thurs
28
Jun.
29
Jun.
30
Jun.
01
Jul.
02
Jul.
03
Jul.
04
Jul.
05
Jul.
06
Jul.
07
Jul.
Order weekdays until 11 a.m.:
* Guaranteed delivery next working day
** Prioritised production and standard delivery
Our delivery companies:

---
Delivered to
| | Size | Next Day EXPRESS Upgrade | PRIO Upgrade | Delivery |
| --- | --- | --- | --- | --- |
| XS | 30 x 20 cm | £69.95 | £5.95 | £22.95 |
| XS | 40 x 30 cm | £69.95 | £5.95 | £22.95 |
| XS | 45 x 30 cm | £69.95 | £5.95 | £22.95 |
| S | 60 x 40 cm | £74.95 | £7.95 | £15.95 |
| S | 60 x 45 cm | £74.95 | £7.95 | £15.95 |
| S | 75 x 50 cm | £74.95 | £7.95 | £15.95 |
| M | 80 x 60 cm | £74.95 | £7.95 | £15.95 |
| M | 90 x 60 cm | £79.95 | £9.95 | £19.95 |
| M | 100 x 75 cm | £79.95 | £9.95 | £19.95 |
| M | 105 x 70 cm | £95.95 | £12.95 | £19.95 |
| L | 120 x 80 cm | £95.95 | £12.95 | £19.95 |
| L | 120 x 90 cm | £95.95 | £12.95 | £19.95 |
Prices incl. VAT.
Delivery discount available on multiple purchases (same size).
All prices and delivery times
Couple
Harry
Steel 20
Image
Components
4-part set comprising
2 mounts & 2 spacers
4-part set incl. screws
15 mm diameter
4-part set incl. screws
20 mm diameter
Weight capacity
Holds up to 6 kg
approx. 120 x 90 cm
Suitable for all photo sizes
Suitable for all photo sizes
Impression
"Floating" effect
High-quality stainless steel
High-quality stainless steel fixture
(AISI304)
Suitable for
Alu-Dibond
Other
Assembly instructions incl.
Assembly instructions incl.
Drilling & assembly instructions excl.
Price
£12.95
£23.80
£18.95
---
---
Metal prints: an all-round product in top quality
Aluminium is by far the least well-known medium for image printing in private photo printing use. However, metallic print lacks nothing that other photo products such as canvas, acrylic glass or posters can offer. Quite the opposite, in fact: Alu-Dibond has certain qualities that make it unique and perfect for printing in large format. This is one reason why many photo exhibitions rely on this material and photo experts like to work with this product, especially when it comes to oversized prints.
The properties of Alu-Dibond
Alu-Dibond consists of two thin aluminium sheets which are held together in the middle by a plastic polyethylene core. Since both materials are very light, the end product is also a light yet dimensionally stable photographic print. Since we print the photo directly on to the aluminium rather than sticking it on, you will receive a 3 mm thick, extremely stable premium photo product. The product is waterproof and temperature resistant, making it the ideal photo print for hanging in the bathroom. Alu-Dibond is also a sought-after medium for outdoors or for a backsplash in the kitchen.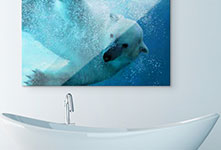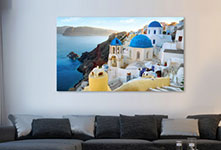 What relevance does the white or brushed finish have?
Colours appear particularly brilliant when they are printed using UV direct printing processes on to metal. The difference between semi-matte, white Alu-Dibond or the brushed variant in the surface finish. A semi-matte finish presents the original colours of your photo with excellent colour resolution and brilliance. A brushed finish allows your Alu-Dibond to appear fine and resplendently metallic, and gives your metal print a unique structure. For this reason, a matte finish is better suited to bright rooms with lots of light reflections. The aluminium photo print is, however, sometimes a little cheaper.
Typical applications of metal prints
Thanks to their unique properties, aluminium photo prints are readily used in the advertising or trade show industry and by exhibitors. But it is also the ideal photo product for private individuals. In addition to its feather-like weight, it also convinces with its detail and image sharpness. This makes the picture easy to hang and also easy to transport in the case of moving house. Alu-Dibond is ideal for the creation of collages and spectacular motifs for your living space.
With us, you can very simply order your own custom metal print. We can cut your photo on Alu-Dibond to the millimetre. In addition to our standard sizes, you can have your aluminium photo print manufactured in your preferred size, so that it harmonises perfectly with your interior design. Whether panorama, portrait or square format, we'll help you find the right size for you. Simply write to us with your inquiry at contact and we'll get back to you without delay.
Order aluminium photo prints cheaply
Alu-Dibond is certainly one of the more exclusive media for photos and the materials used are correspondingly high quality and expensive. Nevertheless, we regularly have special offers allowing you to order particular sizes at great value prices.
Prices of metal prints compared to acrylic glass:
| Size | Metal Print | Acrylic Print |
| --- | --- | --- |
| 20 x 20 cm | £19,00 | £19,00 |
| 80 x 60 cm | £65,00 | £65,00 |
| 120 x 90 cm | £100,00 | £100,00 |
---
You may also like: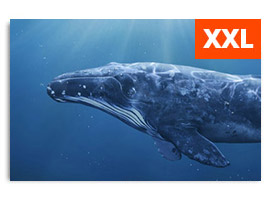 ---
XXL Canvas Print
From £19
Go to Large Canvas Print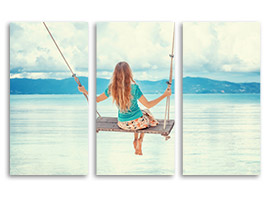 ---
Split Canvas
From £38
Go to Multi Canvas Prints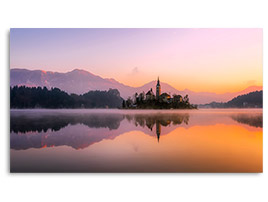 ---
Panorama Canvas
From £25
Go to Panorama Canvas Prints