1. Upload photos

2. Create collage

3. Finished

---
More than 250 free templates
---
Did you know? You can use up to 100 photos in one collage print.
---
Photo Collage FAQs
How many photos can I use?

That depends on the template you choose. In general: We offer collage templates for 100 images max.

What layouts can I choose from?

Can I have my collage printed?

Of yourse! Choose canvas, aluminium, plexiglass or poster.

How large will the final collage be?

That's totally up to you and the template you choose. We can offer big canvas prints with sized up to 120 x 90 cm (100 x 100 cm for square templates).

Here you find all sizes and prices.

When will the collage be shipped?

We offer a Next Day Delivery service: Here, your printed collage will delivered the next working day if you place your order until 11 a.m..

Our standard delivery service is pretty fast as well: The majority of the ordered collages will be printed and shipped within just a few days.
---
---
Tip: You can choose from over 250 FREE collage templates on our website.
---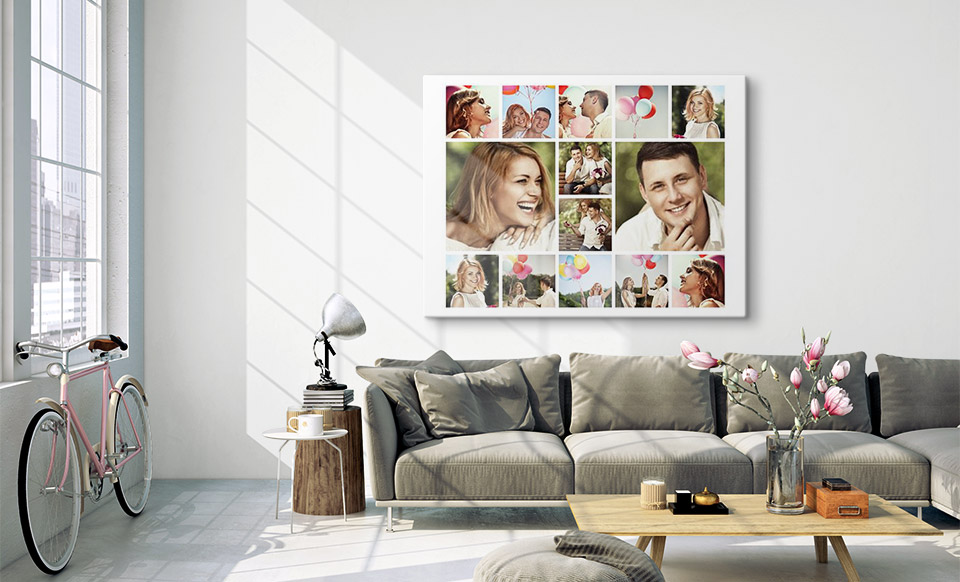 ---
Create collage
---
The canvas collage: Gallery basis meets colourful photo variety
Most of us associate canvas prints with wide landscapes or artistic portraits. In fact, the canvas is also perfect for creating collages. Here, the high-quality and elegant look of the canvas is combined with the vivid optics of the collage. It doesn't matter if you want to design your canvas collage for your own living room or as a gift: with photos of friends, acquaintances and family members, it is guaranteed to become an absolute eye-catcher!
Create canvas collage: How your new favourite image will be especially beautiful
Arranging many individual images on a large canvas - that sounds like a lot of work, doesn't it? But it's not at all: we have optimised the collage creation process to the point where you can create a canvas print collage in just a few steps. The only preliminary consideration is the decision about how many photos you have or want to use. Once you've decided, you can get started straight away!
The first step is always the choice of a suitable template. You can orientate yourself according to how many pictures you have. You should also decide whether your collage should contain many similarly sized images, or rather one or three larger shots. There are also collages with one large photo in the centre and many smaller ones that together form a kind of border. If your canvas collage is to become a gift, you can also take a look at our customised templates. Hearts, numbers and letters await you here!
Depending on what message you want to send with your artwork, you can use it to create a beautiful extra nuance of meaning. Once you have found the right template, you will be forwarded directly to the collage generator. Here you can automatically place your pictures in the collage grid and even rotate and crop them.
If you have a very precise idea of where which image is best located, you can of course also insert your photos manually. Once your collage is complete, it's always worth a quick look at the preview function. Here you can admire your canvas collage in its entirety. You should not skip this step, as collages often appear fuller than originally planned when you look at them as a whole. If you find in the preview that some photos are really not quite consistent, you can easily return to the grid and change them there.
Finally, you still have some additional functions available. If you want to give your canvas collage a particularly unique look, you can now choose one of 16 background colours. If you feel keen to experiment at the end, you can also play around with our black and white filter.
The most beautiful motifs for your photo canvas as a collage
The most beautiful motif, of course, are the people who are especially close to your heart, so if you have lots photos of your friends or family, you can combine them perfectly into a photo collage on canvas. Good occasions for photos are joint excursions, parties, weddings, family celebrations or anniversary celebrations.
Collages with photos of you and your partner are also wonderful in the living room, kitchen or as a gift. Your couples collage will be especially beautiful if all the photos come from the same photo shoot, so it is often very worthwhile to have the shots taken for your canvas collage in a photo studio or by a professional photographer.
This way you get many coordinated photos, which makes your collage seem particularly harmonious at the end. Lively holiday pictures or photos of longer trips will also give your photo canvas a collage a really beautiful look. If the pictures all come from a similar setting, i.e. on the beach, in the mountains or in the forest, the colour scheme will often be similar too. This makes your collage look wonderfully homogeneous, thematically and visually!
Great tip for the impatient: If your canvas collage has to be really fast, you can use our Canvas Express Service. Your canvas will be printed and shipped on the day of the order!
With these 4 tricks, your photo collage on canvas becomes something very special
1. Choose photos according to a similar colour scheme: The look of your photo collage on canvas will depend very much on your photo selection. It is especially important that all the photos used have a similar colour scheme. This does not necessarily mean that they must be identical, but they should all have a similar mix of light, dark, cool and warm. Colour outliers may not be so noticeable when creating the collage, but they often stand out extremely once your collage is on the wall. This can greatly upset the harmonious effect of your collage
2. Create a collage on canvas with text box: Many of our templates come with an additional text box. This is the case in particular for the specially shaped canvas collages such as heart, letters or numbers. Here you have space for a loving message, words of congratulations or even a small quote in addition to the design of the collage itself! This text function is very practical if you plan on giving your collage as a gift.
3. Don't be afraid to go big: Canvas is the ideal printing base for XXL formats - and of course this is no different with canvas collages. On the contrary, especially when you want to use many different photographs, your collage will benefit from having a large area. After all, you have the possibility to use up to 100 photos. Why shouldn't you take advantage of it? A colourful XXL canvas collage looks amazing, especially in the living room above the couch or in the hallway over the shoe rack or chest of drawers.
4. Crop images purposefully: You can use the "Edit" function to make the most of each of your uploaded photos individually. In addition to rotating photos and manually arranging them, you can also crop your photos and thus select the best part of your image. This is especially worthwhile if you use one of our templates with differently sized image grids.
---
Further information
Canvas print info
Prices
Delivery times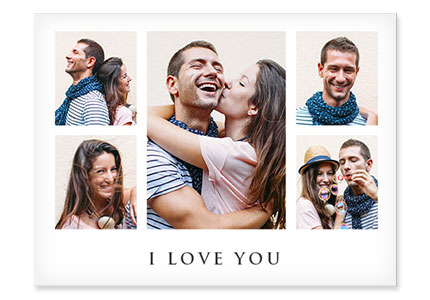 Canvas information
Real canvas made from 100% cotton
Fastened onto wooden frame
Modern HP© printing technology
75 year colour guarantee
---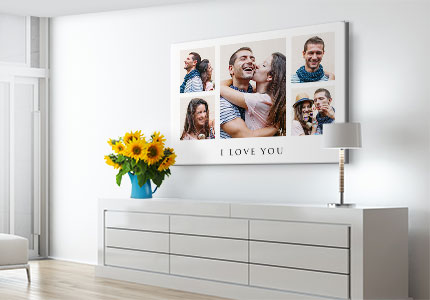 Detailed information
Original artist canvas made from 360 g/m² cotton with a smooth linen structure
Fastened onto wooden frame + 8 tensioning wedges incl.
Modern canvas printing technology with HEWLETT PACKARD© (HP - True Colour Technology)
Choice of frame: standard 2 cm or gallery 4 cm
Next Day Express delivery or PRIO production available
Environmentally friendly: produced from over 99% sustainable raw materials
Your canvas is available in the following thickness: 2 cm / 4 cm
Size
RRP
Price
Choose size

XS

20 x 20 cm

£30.00

£19.00

£30.00

select

XS

30 x 20 cm

£20.00

£25.00

select

XS

30 x 30 cm

£25.00

£35.00

select

XS

40 x 30 cm

£69.00

£30.00

£40.00

select

XS

40 x 40 cm

£30.00

£40.00

select

S

50 x 50 cm

£45.00

£55.00

select

S

60 x 40 cm

£45.00

£55.00

select

S

70 x 50 cm

£50.00

£63.00

select

M

80 x 60 cm

£99.00

£65.00

£75.00

select

M

90 x 60 cm

£99.00

£70.00

£90.00

select

L

120 x 80 cm

£100.00

£115.00

select

XL

150 x 100 cm

£150.00

£170.00

select
Delivery discount on multiple purchases (same size)
.
When will your canvas print be delivered:
TODAYOrder
now

Next Day*
EXPRESSdelivery
guaranteed

PRIO**delivery
expected

STANDARDdelivery
expected

Thurs
Fri
Sat
Sun
Mon
Tue
Wed
Thurs
Fri
Sat
11
Aug.
12
Aug.
13
Aug.
14
Aug.
15
Aug.
16
Aug.
17
Aug.
18
Aug.
19
Aug.
20
Aug.
Order weekdays until 11 a.m.:
* Guaranteed delivery next working day
** Prioritised production and standard delivery
Our delivery companies:

---
Delivered to
| | Size | Next Day EXPRESS Upgrade | PRIO Upgrade | Delivery |
| --- | --- | --- | --- | --- |
| XS | 30 x 20 cm | £69.95 | £5.95 | £22.95 |
| XS | 40 x 30 cm | £69.95 | £5.95 | £22.95 |
| XS | 45 x 30 cm | £69.95 | £5.95 | £22.95 |
| S | 60 x 40 cm | £74.95 | £7.95 | £15.95 |
| S | 60 x 45 cm | £74.95 | £7.95 | £15.95 |
| S | 75 x 50 cm | £74.95 | £7.95 | £15.95 |
| M | 80 x 60 cm | £74.95 | £7.95 | £15.95 |
| M | 90 x 60 cm | £79.95 | £9.95 | £19.95 |
| M | 100 x 75 cm | £79.95 | £9.95 | £19.95 |
| M | 105 x 70 cm | £95.95 | £12.95 | £19.95 |
| L | 120 x 80 cm | £95.95 | £12.95 | £19.95 |
| L | 120 x 90 cm | £95.95 | £12.95 | £19.95 |
Prices incl. VAT.
Delivery discount on multiple purchases (same size)
All delivery prices and times
---
---
You may also like