1. Upload photos

2. Create collage

3. Finished

---
Photo collage on canvas
The collage canvas is a creative option for printing many pictures on one canvas. The various collage templates allow you to create your own canvas print completely individually. This means you have the opportunity to combine your photos thematically, and to depict, for example, a holiday, a wedding, the most beautiful pictures of your children or simply time spent together on a large multi photo canvas print. With a little creativity your photo collage canvas will be a small or XXL work of art that will delight you for a long time to come.
Did you know? You can use up to 100 photos in one collage print.
---
Photo Collage FAQs
How many photos can I use?

That depends on the template you choose. In general: We offer collage templates for 100 images max.

What layouts can I choose from?

Can I have my collage printed?

Of yourse! Choose canvas, aluminium, plexiglass or poster.

How large will the final collage be?

That's totally up to you and the template you choose. We can offer big canvas prints with sized up to 120 x 90 cm (100 x 100 cm for square templates).

Here you find all sizes and prices.

When will the collage be shipped?

We offer a Next Day Delivery service: Here, your printed collage will delivered the next working day if you place your order until 11 a.m..

Our standard delivery service is pretty fast as well: The majority of the ordered collages will be printed and shipped within just a few days.
---
---
How to create a Canvas print collage?
Using the free online collage maker, it is very easy to create your own canvas collage. Make sure that when selecting your photos that they are in JPEG format. This file format can be handled best. There is no limit to the number of photos you can transfer for your collage. However, it's easier to arrange the photos when you have a clear overview. The collage template you have created is always shown live. This provides you with a simple preview of how your photo collage canvas print will look later.
Tip: You can choose from over 250 FREE collage templates on our website.
---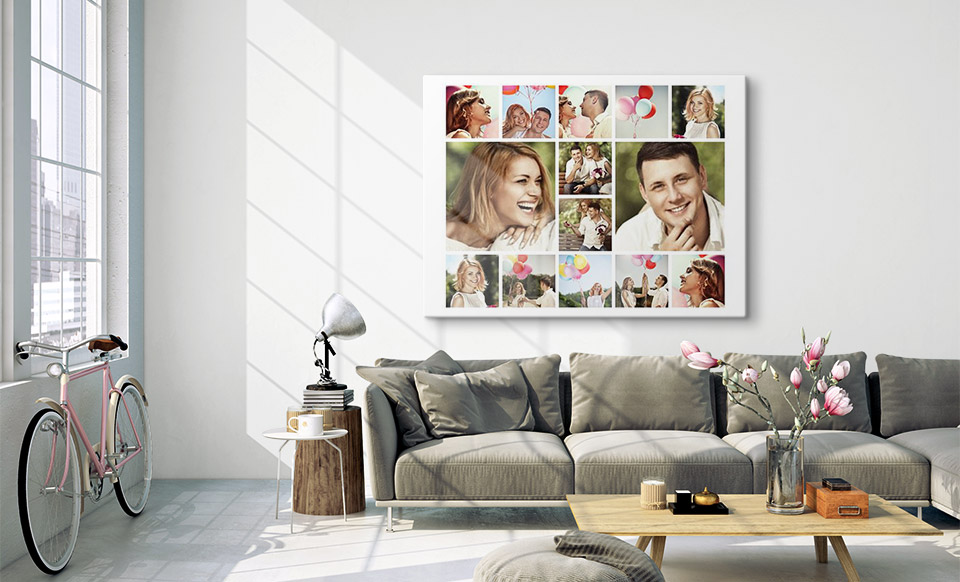 ---
Create collage
---
---
Further information
Canvas print info
Prices
Delivery times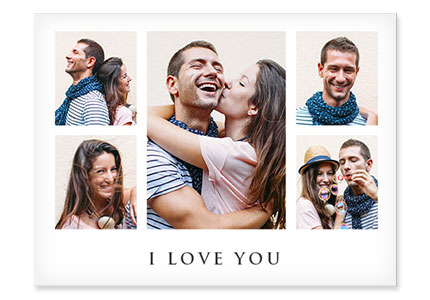 Canvas information
Real canvas made from 100% cotton
Fastened onto wooden frame
Modern HP© printing technology
75 year colour guarantee
---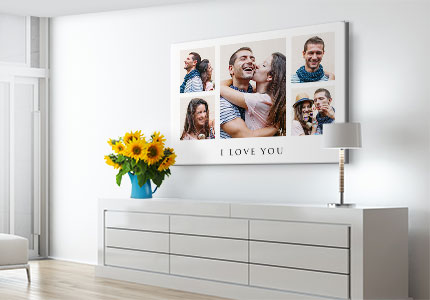 Detailed information
Original artist canvas made from 360 g/m² cotton with a smooth linen structure
Fastened onto wooden frame + 8 tensioning wedges incl.
Modern canvas printing technology with HEWLETT PACKARD© (HP - True Colour Technology)
Choice of frame: standard 2 cm or gallery 4 cm
Next Day Express delivery or PRIO production available
Environmentally friendly: produced from over 99% sustainable raw materials
Your canvas is available in the following thickness: 2 cm / 4 cm
Size
RRP
Price
Choose size

XS

20 x 20 cm

£30.00

£19.00

£30.00

select

XS

30 x 20 cm

£20.00

£25.00

select

XS

30 x 30 cm

£25.00

£35.00

select

XS

40 x 30 cm

£69.00

£30.00

£40.00

select

XS

40 x 40 cm

£30.00

£40.00

select

S

50 x 50 cm

£45.00

£55.00

select

S

60 x 40 cm

£45.00

£55.00

select

S

70 x 50 cm

£50.00

£63.00

select

M

80 x 60 cm

£99.00

£65.00

£75.00

select

M

90 x 60 cm

£99.00

£70.00

£90.00

select

L

120 x 80 cm

£100.00

£115.00

select

XL

150 x 100 cm

£150.00

£170.00

select
Delivery discount on multiple purchases (same size)
All prices incl. VAT.
When will your canvas print be delivered:
TODAYOrder
now

Next Day*
EXPRESSdelivery
guaranteed

PRIO**delivery
expected

STANDARDdelivery
expected

Thurs
Fri
Sat
Sun
Mon
Tue
Wed
Thurs
Fri
Sat
03
Dec.
04
Dec.
05
Dec.
06
Dec.
07
Dec.
08
Dec.
09
Dec.
10
Dec.
11
Dec.
12
Dec.
Order weekdays until 11 a.m.:
* Guaranteed delivery next working day
** Prioritised production and standard delivery
Our delivery companies:


---
Delivered to
| | Size | Next Day EXPRESS Upgrade | PRIO Upgrade | Delivery |
| --- | --- | --- | --- | --- |
| XS | 20 x 20 cm | £89.95 | £5.95 | £12.95 |
| XS | 30 x 20 cm | £89.95 | £5.95 | £12.95 |
| XS | 30 x 30 cm | £89.95 | £5.95 | £12.95 |
| XS | 40 x 30 cm | £89.95 | £5.95 | £12.95 |
| XS | 40 x 40 cm | £89.95 | £5.95 | £12.95 |
| S | 50 x 50 cm | £89.95 | £7.95 | £15.95 |
| S | 60 x 40 cm | £89.95 | £7.95 | £15.95 |
| S | 70 x 50 cm | £89.95 | £7.95 | £15.95 |
| M | 80 x 60 cm | £89.95 | £7.95 | £15.95 |
| M | 90 x 60 cm | £139.95 | £9.95 | £19.95 |
| L | 120 x 80 cm | £139.95 | £12.95 | £19.95 |
| XL | 150 x 100 cm | - | £12.95 | £29.95 |
Prices incl. VAT.
Delivery discount on multiple purchases (same size)
All delivery prices and times
---
---
You may also like