1. Upload photo

2. Choose a size

3. Order canvas photo

---
A0 Canvas Prints
Photos printed on a 120 x 80 cm canvas are impressive! With such canvas prints you can easily decorate bigger rooms or empty walls. This size is the most popular XXL size - although it's the smallest of the large sizes. Your photo will be printed on real canvas made of 100% cotton. It will be stretched on a solid, extra-strong wooden frame in order to stabilize your print. We will send it to you ready to hang. You can choose the 2 cm standard frame or the 4 cm gallery frame.
---
Your photo canvas in different sizes


40 x 30 cm


60 x 40 cm


80 x 60 cm


120 x 80 cm


160 x 120 cm
---
---
Canvas Photo Prints in 120 x 80 cm
Especially for prints from a size of 120 x 80 cm and bigger the design of the edges is essential. You can choose between 4 different side options. The wrapped border is the most popular choice for large canvas prints. If you see in the preview that important elements are "lost" from the front of the image, you can select a mirrored edge. If you are printing your in black & white, a monochrome edge is the perfect fit. Here you can choose between black and white.
Did you know? More than 250,000 have been thrilled by our products. 97% of our customers rate us with GOOD or VERY GOOD.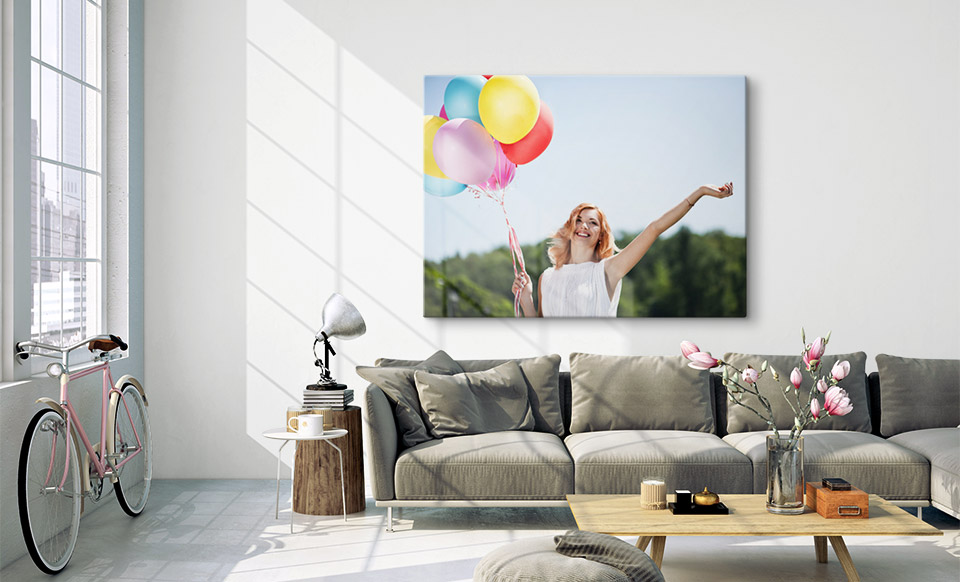 ---
---
Customer reviews
Cath
Review in Annan
Product: Canvas print Verified purchase
Really straightforward to order, delivered promptly and looks great on the wall.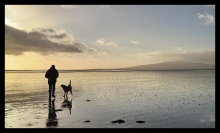 Laura White H.
Review in DUDLEY
Product: Canvas print Verified purchase
Excellent I am so pleased

---
Deirdre
Review in Stroud
Product: Canvas print Verified purchase
Have used this company 3 times now. The order process is very straightforward, delivery very speedy and the quality of the prints is second to none ! Will never use another company again !

Ryan K.
Review in München
Product: Canvas print Verified purchase
The quality of the print was even better than I could have hoped for. Really proves that the online quality calculator works when sizing pictures. When I purchased the canvases it said they would be delivered in a weeks time. Instead, they were prepared and began shipping the next day. Great quality, great prep/shipping time, definitely recommending to friends and family.

---
---
---
Further information
Canvas info
Prices
Delivery times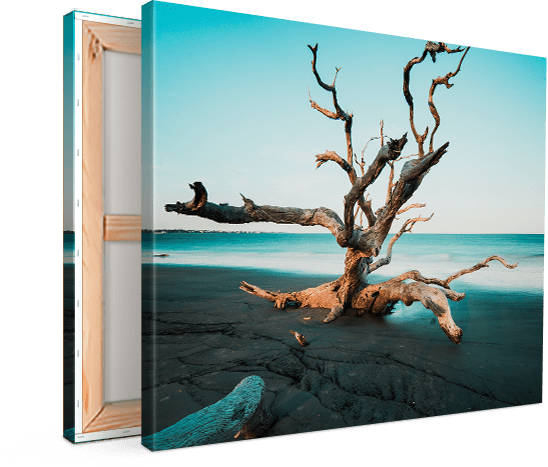 Canvas information
Real canvas made from 100% cotton
Fastened onto wooden frame
Modern HP© printing technology
75 year colour guarantee
---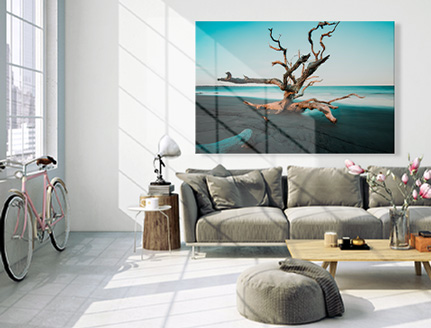 Detailed information
Original artist canvas made from 360 g/m² cotton with a smooth linen structure
Fastened onto wooden frame + 8 tensioning wedges incl.
Modern canvas printing technology with HEWLETT PACKARD© (HP - True Colour Technology)
Choice of frame: standard 2 cm or gallery 4 cm
Next Day Express delivery or PRIO production available
Environmentally friendly: produced from over 99% sustainable raw materials
Your canvas is available in the following thickness: 2 cm / 4 cm
Size
RRP
Price
Choose size

XS

20 x 20 cm

£30.00

£19.00

£30.00

select

XS

30 x 20 cm

£20.00

£25.00

select

XS

30 x 30 cm

£25.00

£35.00

select

XS

40 x 30 cm

£69.00

£30.00

£40.00

select

XS

40 x 40 cm

£30.00

£40.00

select

S

50 x 50 cm

£45.00

£55.00

select

S

60 x 40 cm

£45.00

£55.00

select

S

70 x 50 cm

£50.00

£63.00

select

M

80 x 60 cm

£99.00

£65.00

£75.00

select

M

90 x 60 cm

£99.00

£70.00

£90.00

select

L

120 x 80 cm

£100.00

£115.00

select

XL

150 x 100 cm

£150.00

£170.00

select
Delivery discount on multiple purchases (same size)
.
When will your canvas print be delivered:
TODAYOrder
now

Next Day*
EXPRESSdelivery
guaranteed

PRIO**delivery
expected

STANDARDdelivery
expected

Thurs
Fri
Sat
Sun
Mon
Tue
Wed
Thurs
Fri
Sat
11
Aug.
12
Aug.
13
Aug.
14
Aug.
15
Aug.
16
Aug.
17
Aug.
18
Aug.
19
Aug.
20
Aug.
Order weekdays until 11 a.m.:
* Guaranteed delivery next working day
** Prioritised production and standard delivery
Our delivery companies:

---
Delivered to
| | Size | Next Day EXPRESS Upgrade | PRIO Upgrade | Delivery |
| --- | --- | --- | --- | --- |
| XS | 30 x 20 cm | £69.95 | £5.95 | £22.95 |
| XS | 40 x 30 cm | £69.95 | £5.95 | £22.95 |
| XS | 45 x 30 cm | £69.95 | £5.95 | £22.95 |
| S | 60 x 40 cm | £74.95 | £7.95 | £15.95 |
| S | 60 x 45 cm | £74.95 | £7.95 | £15.95 |
| S | 75 x 50 cm | £74.95 | £7.95 | £15.95 |
| M | 80 x 60 cm | £74.95 | £7.95 | £15.95 |
| M | 90 x 60 cm | £79.95 | £9.95 | £19.95 |
| M | 100 x 75 cm | £79.95 | £9.95 | £19.95 |
| M | 105 x 70 cm | £95.95 | £12.95 | £19.95 |
| L | 120 x 80 cm | £95.95 | £12.95 | £19.95 |
| L | 120 x 90 cm | £95.95 | £12.95 | £19.95 |
Prices incl. VAT.
Delivery discount on multiple purchases (same size)
All delivery prices and times
---
---
You may also like