Choose your gallery wall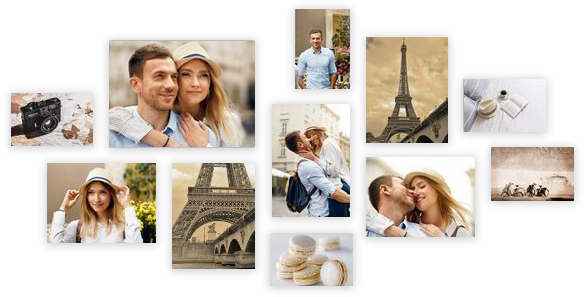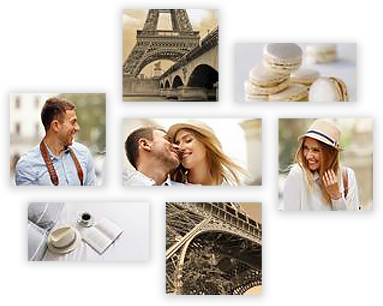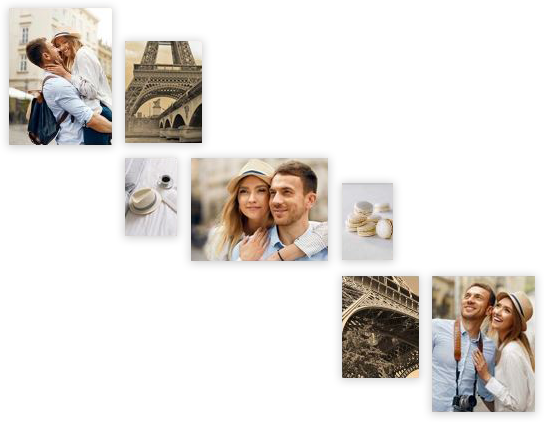 Use this template
of 3
---
A gallery wall for your home
Those stunning floor to ceiling gallery wall photos are no longer something that you only see in art museums or lavish mansions. The timeless gallery wall statement piece is now something that has become one of the trendiest home decor ideas of the past decade! From your living room, to your (often neglected) staircase, create the most stunning photo gallery wall with your favourite images!
---
BOSTON Photo wall (7 Parts)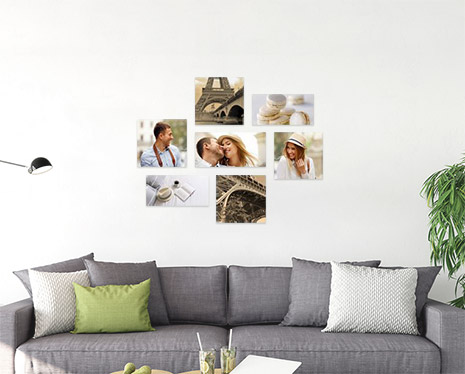 PDF Instructions
Price
Information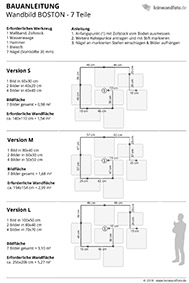 Free PDF download
Size S
7 x Canvas
140x110 cm total
Size M
7 x Canvas
194x154 cm total
Size L
7 x Canvas
256x206 cm total
BOSTON Photo wall
7-picture layout
Available in sizes S, M and L
Total image area between 0.98m2 and 3.10m2
Required wall space between 1.54m2 and 5.27m2
Stretched canvas on 2cm thick frame
---
---
What to consider for your picture wall
Now here comes the fun part – planning out your soon-to-be photo gallery wall. There are so many ways to bring your blank walls to life at home, regardless which room, from your cosy bedroom to your staircase, think of what you're looking to showcase. For some, pictures of loved ones, such as friends and family create the timeless piece the photo gallery wall can represent. For others, creating complimentary colour combinations is what can turn their hour into a home, by using their favorite artist's pieces for the at-home gallery wall.
Gallery wall layout ideas
The next step is simply to make your selection of photos for your picture wall art. From our various formats, you can play around with all sorts of picture wall display ideas. From a statement geometric piece, to a more artsy layout – one of the best ways to go about it is to start off with a picture wall template. Simply trace the appropriately sized picture on paper, and lay the different variations and combinations on the floor to see what would work best with your theme!
Once fully satisfied with the flatlay, time to drill and hang your picturewall up! Use your paper templates to draw guides on the wall, and start drilling or nailing the appropriate hook for your wall! Simple as that – your very own timeless picture wall art.
---
Wall of photos ideas - what to remember:
---
Make sure you choose the right images
You can either go for a monochromatic black & white picture, or coloured ones. More neutral tones tend to last longer, as this choice reduces the chances of growing tired of your pictures.
Measure the wall you plan to hang your pictures on
How much space is available for the picture wall? Please be sure to measure the space so that you can select the right layout.
Pick out the best layout for you
There are all sorts of layouts out there – very symmetrical to super intricate ones, with few or numerous pictures. Some of the decisive factors to think about are the number of images you want to feature, how big you want it and of course, your own individual taste.
Make sure images are eye-level
To mount your picture wall, you will need a tape measure, tools (hammer, nails, spirit level) and a bit of skill in the DIY area.
Hang your pictures up
Hanging your pictures is easy! Just print out our PDF plan and follow the instructions
A gallery wall for your staircase
After having spent a lot of time thinking about your home interior, planning it and finally executing it, one part of the house is all too often simply forgotten about, and that is your very own staircase! Stairway wall decorating is not only a great way for you to make sure you have added personality to one of your most visible blank canvases, but it can also turn your usually functional stairs, can become a real statement piece thanks to gallery wall stairs
---
BALTIMORE Staircase photo wall (7 Parts)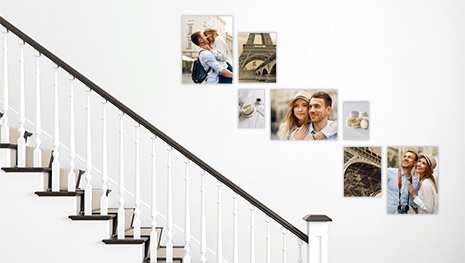 PDF Instructions
Price
Information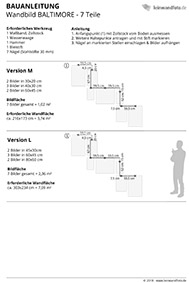 Free PDF download
Size M
7 x Canvas
216x173 cm total
Size L
7 x Canvas
303x234cm total
BALTIMORE Photo wall
5-picture layout
Available in sizes S, M and L
Total image area between 1.02m2 and 2.36m2
Required wall space between 3.74m2 and 7.09m2
Stretched canvas on 2cm thick frame
---
---
A statement staircase with its own gallery wall
Whether you're looking into curved staircase wall decor or other sorts of gallery wall staircase, making your design a reality couldn't be simpler! The biggest part of the job is actually to choose what kind of picture wall staircase you want for your home! Are you going to go all same sized pictures, or will you go more for a more classical gallery wall for your staircase? Thanks to our editor, once you have uploaded your selected images, chosen your layouts and sizes, you can order your set in one click!
Did you know? You can use our PDF hanging instructions to easily put up your picture wall!
NEW YORK
11-piece gallery wall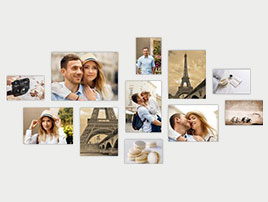 Overall size from 170x95 cm
(in 2 sizes available)
£459
£300
Create
BOSTON
7-piece gallery wall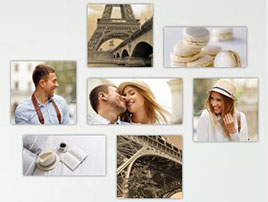 Overall size from 140x110 cm
(in 3 sizes available)
£345
£205
Create
BALTIMORE
7-piece gallery wall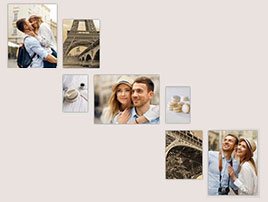 Overall size from 170x150 cm
(in 2 sizes available)
£363
£230
Create
---

3-panel

4-panel

4-panel

5-panel

7-panel

11-panel
Add photosDelete all photos
Simply drag and drop your photos here
This might also interest you