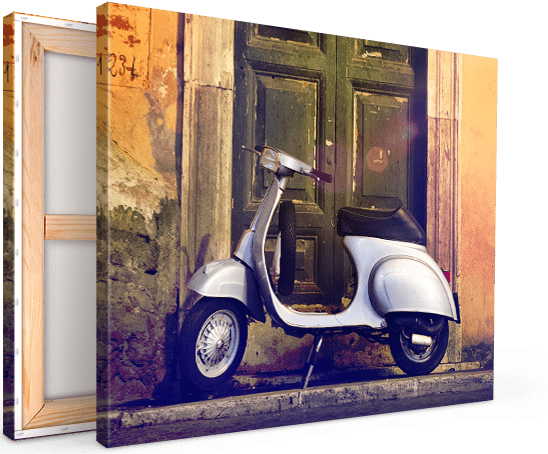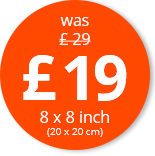 Great value & in XXL sizes
Mounted on a wooden frame
Next day delivery
Ready for dispatch:
Monday 18 June

Canvas print in 3 steps
1. Upload photo

2. Choose a size

3. Order canvas print

---
Photos on canvas – Product details
Original 360 g/m² canvas made from cotton with a smooth surface
Stretched onto a real wooden frame – 8 tensioning wedges also included
Frames available in two depths: Standard 0.8 in (2 cm) and gallery frame 1.6 in (4 cm)
Environmentally friendly: we use sustainably sourced raw materials
Printed directly onto canvas with Hewlett Packard™ HP technology
Larger sizes of up to 120 in (3 metres) also available to order on request
---
---
Sizes and prices
All prices include VAT – ore sizes and prices.
---
Your photo on canvas – a thing of beauty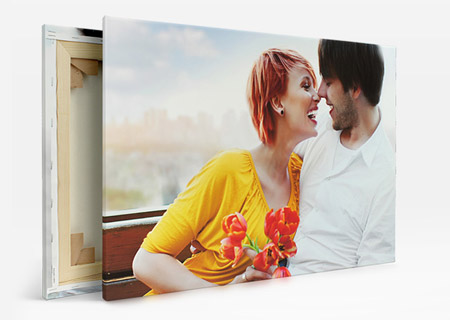 Vivid colours
We use brilliant colours to create your canvas print and employ original Hewlett Packard™ printing technology with real DYE colours. more
When it comes to canvas prints, both material and print technology are equally important. We use proven Hewlett Packard™ technology to get the best possible results. The HP DYE 8 Colour System allows for the optimal printing of vivid colours and challenging half-tones, e.g. skin tones in portraits are perfectly reproduced.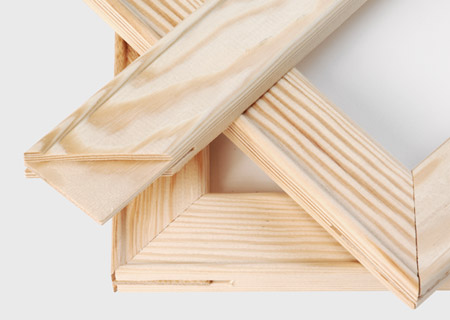 Frames made from real wood
Your canvas print is made with renewable and sustainable natural materials. The sturdy frame is made from real spruce wood. more
Your canvas print is produced using almost only natural materials. Above all, the spruce wooden frame gives the photo a special appeal. With a 0.8 in (2 cm) depth standard frame or 1.6 in (4 cm) depth gallery frame, it makes the canvas print into a 3D piece.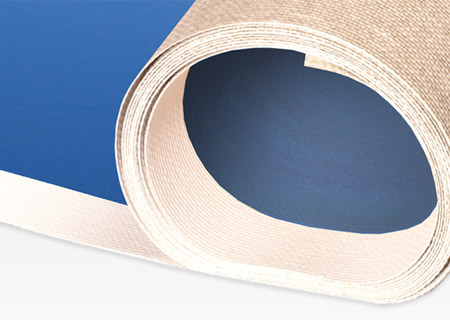 The finest canvas
The beauty of the canvas print lies in the structure of the canvas. We use canvas made from 100% natural cotton. more
Canvas has always been the perfect medium for reproducing photos. The first-rate structure of the canvas strengthens the appeal of the photo. We use a canvas made from 100% natural cotton and with a weight of 360 g/m². Along with the frame, this makes for a canvas print that's made to last.
75 year guarantee
Our canvasses are honed for lasting and brilliant colour. Therefore we offer a 75 year colour fastness guarantee. more
Guaranteed colour fastness indicates the length of time the vibrancy of the colours is maintained. This figure of 75 years pertains to an "indirect exposure to sunlight". If you bear this in mind when it comes to hanging up your canvas, the original colours should be preserved and maintained for a very long time.
---
Canvas prints – your photo in XXL
Before the trend for photos on canvas, photos were generally just framed in wooden frames. The canvas photo is different – it includes the frame. The canvas print, which is made using a direct printing technique, is stretched over a wooden frame after printing. The canvas is then pulled around the frame and fastened to the frame at the back.
Having your own photo printed on canvas is very easy: Pick out your favourite photo from your hard drive. Upload the photo for printing on to canvas. Then choose the size of your canvas print. In just a few days, your photo on canvas will be printed and delivered to you at home.
What do I have to watch out for in canvas printing?
We offer photo canvasses in numerous sizes. The smallest canvas has the format 20 x 20 cm. The largest photo on canvas in the standard range is 240 x 120 cm. Generally speaking, just about any photo file these days from a modern camera or mobile phone is suitable for printing on canvas. Of course: The higher the resolution, the better the picture quality of the canvas prints. The printed results of the canvas will be very good if the following rules are observed:
Adequate resolution in the photo file
Save the JPEG in best image quality
Check image sharpness at full size
Adjust colour as required
Once these conditions have been met, you can print your photo on canvas without hesitation. To do this, the photo must be transferred into the ordering system. Then, the required size of canvas must be selected.
Smartphone, digital camera or SLR?
Today it no longer matters which camera was used to take the photos. Even smartphones photograph with such good resolution that the images can be printed on to canvas. More important for the quality of the resulting canvas print are optimal sharpness and true-to-life colours. If the photo doesn't have sufficient resolution, this will be recognised by the automatic quality inspection during the upload. If the photo is not suitable, it won't go for printing.
Classic, panorama, square – which canvas print should I choose?
First and foremost, the uploaded photo will be decisive for the ideal canvas size – after all, you choose the photo for its motif. However, photo-on-canvas.co.uk offers the option of changing the photo format during the ordering process. This means you can also have a panoramic canvas print from an impressive holiday shot. The square canvas format also provides interesting design possibilities. For example: Three square canvasses as a multi-panel photo canvas series look very impressive above a sofa.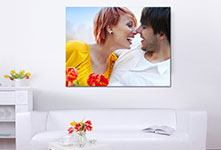 How do I attach the photo on canvas to the wall?
Hanging canvasses is as easy as you would imagine. You need nothing more than a hammer and nail, since a canvas print is not very heavy. A small nail of 30 mm in length is enough to securely attach a frame securely on to the wall. For larger canvasses (of more than 1 metre in width), we recommend using two nails. You should align these with a spirit level to make sure that the canvas print hangs really straight.
Portrait or landscape – what should I watch out for?
Nothing! Your photo is stretched on to a wooden frame and can be hung easily in both landscape and portrait modes. So you don't need to take particular notice of anything in particular in either selecting your photos or in the ordering process. It will all be taken care of.