1. Upload photo

2. Choose a size

3. Order canvas print

---
Personalised canvas
Looking for the perfect gift? Where can you create canvas for a unique present that will thrill the recipient for years to come? Look no further! Personalised canvas for the recipient are the solution for any occasion, whether a birthday, an anniversary, a going-away or retirement gift, or just as a thank-you. A personalised canvas print is easy to make but looks exquisite and will show the recipient how much you care. We offer a huge range of templates and formats to suit every situation and wallet.
Did you know? More than 250 000 have been thrilled by our canvas products. 97% of our customers rate us with GOOD or VERY GOOD.
---
---
---
Canvas prints personalised
We make it simple for you to create a personalised canvas pictures. With a huge array of templates, the hardest part is deciding which one to choose. We recommend that you first organise and select the photos you want to use. Knowing how many photos you are using for your personalised canvas wall art will help narrow down the choice a little. And don't forget: before ordering you can also check the best suitable size for the resolution of your image.
---
Personalized canvas prints
Many of our customers order personalized canvas prints to present as gifts and a photo canvas made with your own photos (maybe of the happy couple, of a holiday or simply happy times spent together) is a present that the recipient will cherish forever. But a personalised photo canvas can also be a unique piece of wall art for your own home. For even more uniqueness you can order a custom sized canvas photo and show off your best photography or display your favourite family portraits on a photo canvas for a statement piece that will wow your guests.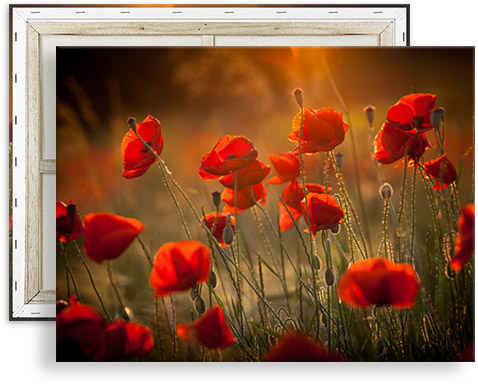 Product view
Detail view
In the room
Tip: The JPEG file format is perfectly suitable for uploading the images for your photo canvas.
---
Further information
Canvas print info
Prices
Delivery times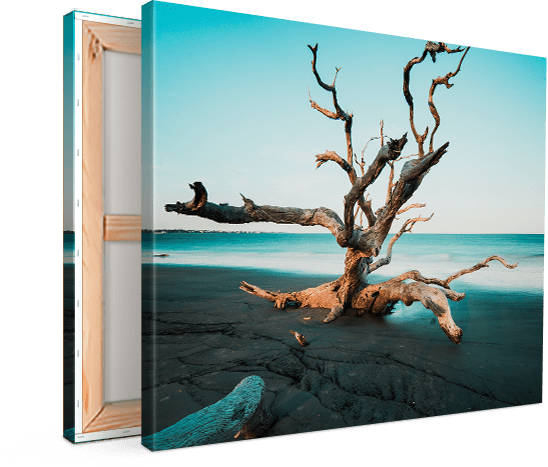 Canvas information
Real canvas made from 100% cotton
Fastened onto wooden frame
Modern HP© printing technology
75 year colour guarantee
Made in Germany
---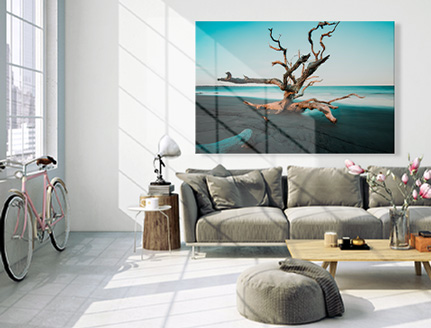 Detailed information
Original artist canvas made from 360 g/m² cotton with a smooth linen structure
Fastened onto wooden frame + 8 tensioning wedges incl.
Modern canvas printing technology with HEWLETT PACKARD© (HP – True Colour Technology)
Choice of frame: standard 0.8 in (2 cm) or gallery 1.6 in (4 cm)
Express or Next Day delivery available
Environmentally friendly: produced from over 99% sustainable raw materials
Your canvas is available in the following thickness: 0.8 in (2 cm) / 1.6 in (4 cm)
Size
RRP
Price
Choose size

XS

20 x 20 cm

£30.00

£19.00

£30.00

select

XS

30 x 20 cm

£20.00

£25.00

select

XS

30 x 30 cm

£25.00

£35.00

select

XS

40 x 30 cm

£69.00

£30.00

£40.00

select

XS

40 x 40 cm

£30.00

£40.00

select

S

50 x 50 cm

£45.00

£55.00

select

S

60 x 40 cm

£45.00

£55.00

select

S

70 x 50 cm

£50.00

£63.00

select

M

80 x 60 cm

£99.00

£65.00

£75.00

select

M

90 x 60 cm

£99.00

£70.00

£90.00

select

L

120 x 80 cm

£100.00

£115.00

select

XL

150 x 100 cm

£150.00

£170.00

select
Delivery discount on multiple purchases (same size)
All prices incl. VAT.
When will your canvas print be delivered:
TODAYOrder
now

Next Day*deliveryguaranteed

EXPRESSdeliveryexpected

STANDARDdeliveryexpected

Tue
Wed
Thurs
Fri
Sat
Sun
Mon
Tue
Wed
Thurs
21
May.
22
May.
23
May.
24
May.
25
May.
26
May.
27
May.
28
May.
29
May.
30
May.
* Next Day delivery only available if ordered before midday
Our delivery companies:

---
Delivered to
| | Size | Next Day Upgrade | Express Upgrade | Delivery |
| --- | --- | --- | --- | --- |
| XS | 20 x 20 cm | £89.95 | £5.95 | £12.95 |
| XS | 30 x 20 cm | £89.95 | £5.95 | £12.95 |
| XS | 30 x 30 cm | £89.95 | £5.95 | £12.95 |
| XS | 40 x 30 cm | £89.95 | £5.95 | £12.95 |
| XS | 40 x 40 cm | £89.95 | £5.95 | £12.95 |
| S | 50 x 50 cm | £89.95 | £7.95 | £15.95 |
| S | 60 x 40 cm | £89.95 | £7.95 | £15.95 |
| S | 70 x 50 cm | £89.95 | £7.95 | £15.95 |
| M | 80 x 60 cm | £89.95 | £7.95 | £15.95 |
| M | 90 x 60 cm | £139.95 | £9.95 | £19.95 |
| L | 120 x 80 cm | £139.95 | £12.95 | £19.95 |
| XL | 150 x 100 cm | - | £12.95 | £29.95 |
Prices incl. VAT.
Delivery discount on multiple purchases (same size)
All delivery prices and times
---
---
This might also interest you